Lashnetics Review: Magnetic Eyelashes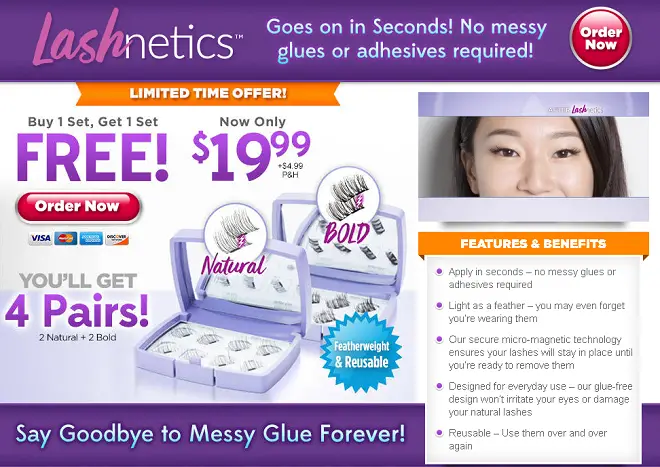 Lashnetics are sets of reusable magnetic lashes that attach in seconds. Do they work as advertised? Here is our Lashnetics review.
Sponsored Links
About Lashnetics
Lashnetics are lightweight magnetic eyelashes that quickly apply without the use of messy glues or adhesives. The official website is getlashnetics.com, with a registration date of June 2017. The screen capture below was taken of the product website in August 2017.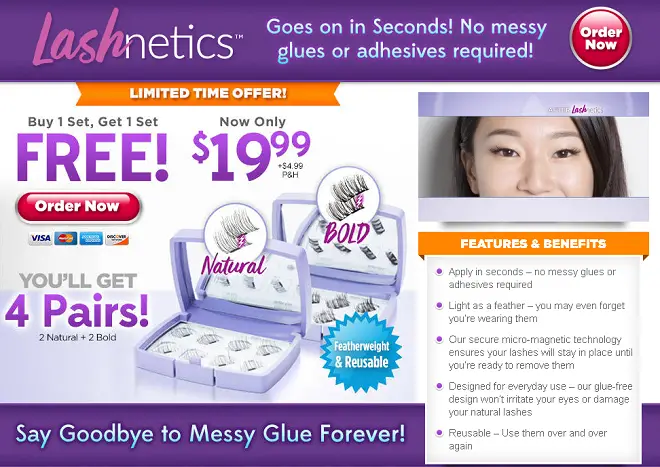 Claims & Features
Takes moments to apply
Lightweight
Micro-magnets hold lashes in place until they're removed
No glue or adhesives required
Reusable
Cost
Lashnetics costs $19.99 + $4.99 P&H for a total of $24.98. This is a mandatory buy one get one free offer that includes a Natural Lash set and a Bold Lash set (4 pairs of lashes: 2 Natural and 2 Bold). The lashes come in a carrying case that has a built-in application mirror. At the time of this writing, Lashnetics is not available in stores.
Lashnetics Review
In late 2016, there was a buzz about a new product that was advertised as magnetic eyelashes. These were said to be applied more quickly and with less mess. That buzz wasn't created by Lashnetics, but a product called One Two Lash. Lashnetics, however, has jumped firmly on the bandwagon with the first As Seen on TV offering in this category.
Sponsored Links
Lashnetics uses tiny magnets to hold lashes together on each side of your existing eyelash. To use Lashnetics, you place the upper lash on top of your eye lash, then attach the bottom lash to that. They will stay in place thanks to tiny magnets. Once the lashes are on, they will stay on all day and can be easily removed by simply pinching your fingers on both of them and gently pulling off.
As noted before, there was a buzz about the first round of these magnetic lashes in 2016, but reviewers found them more difficult to apply than the commercial indicates. Placing the first lash on top of your existing lash requires dexterity, and applying the second lash also requires a bit of "aim" to make sure it's properly aligned with the upper lash, and this may not be very easy for some consumers. The sensation of wearing these is also different, and may seem uncomfortable until you get used to the feeling.
You may find it easier to place the lashes while holding them with a pair of tweezers, but keep in mind that the lashes may be magnetically attracted to the tweezers, depending on how you hold them. Plastic tweezers may be optimal.
In the end, there is a learning curve when it comes to applying and removing Lashnetics. It also requires considerable dexterity and precision. As interesting as the concept sounds, I'm not sure that it improves upon tried and true methods of applying eyelashes.
Keep in mind that Lashnetics are new, based on the June 2017 website registration date. This tells me that it could still be test marketing, which means delivery could take weeks or more. You may want to exercise patience should you decide to order. There are also other options out there which would ship much faster, as I'll discuss below.
Alternatives
A number of magnetic eyelashes appeared on the market after the buzz about One Two Lash in 2016. This version is currently listed an an Amazon #1 Best Seller, although there is a portion of 1-star ratings that should be perused, too.
Television Commercial
Your Lashnetics Reviews
What are your thoughts about Lashnetics? Drop a comment below and a star rating above to let us know what you think about it.