Lazy Litter Box is a sifting tray that is advertised as the world's easiest litter box. Does it actually work? Here is our Lazy Litter Box review.
Sponsored Links
About Lazy Litter Box
Lazy Litter Box is an interlocking litter tray that allows for a scoop-free solution to cat boxes. The official product website is lazylitterbox.com, which was registered in October 2016. The screen shot below was taken of the product website in April 2017.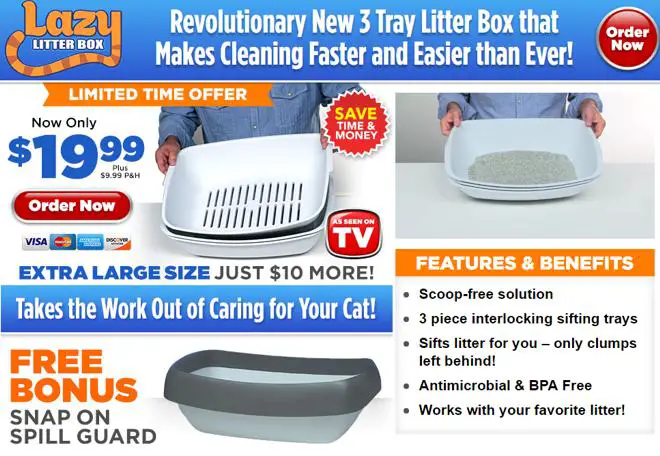 Claims & Features
Scoop-free design
3 interlocking trays
Sifts litter, leaves clumps
Antimicrobial
Works with any litter
Cost
You can get the standard Lazy Litter Box for $19.99 + $9.99 P&H. There is an extra large option for $29.99 + $9.99 P&H. A bonus snap-on spill guard is also included with your order. As of this writing, Lazy Litter Box isn't sold in stores.
Lazy Litter Box Review
The idea of a trouble-free litter box is perhaps a Holy Grail to some cat owners. While there are extremely high-end self-cleaning litter boxes (discussed below), Lazy Litter Box is a more economical way to deal with your cat's mess.
Sponsored Links
Using Lazy Litter Box is as simple as moving one of three interlocking trays that hold the litter to the bottom of the stack. Each tray is slotted, but the slots are offset from each other. After your cat does its business, you simply lift the top tray to allow the litter to fall into the tray below. You'll then discard the clumps that were too large to pass through the slot. Finally, the tray you just removed is rotated 180 degrees and placed at the bottom.
First is the good news: It works well for litter that is clumped.
There is certainly a novelty aspect to Lazy Litter Box which almost makes dealing with litter fun at first. While the "fun" (used loosely) aspect may wear off, the function of Lazy Litter Box will actually continue to please cat owners – because it generally works for clumped litter.
You don't have to change your brand of litter, so your cat can continue to use whatever brand it (or you) prefers.
Now for the bad news: Urine can be problematic.
Keeping in mind that there is a wide variety of cats and litter brands that will affect results, you could find yourself dealing with a headache when it comes to cat urine. If your cat urinates in the center of the box, it may be possible that urine clumps will be disposed of easily. If it prefers the side or corner, you may find litter sticking to the side. There is also the possibility of urine-soaked litter (that doesn't clump) becoming sticky and clogging the slots. Once you've rotated the layers a few times, you could also find urine on the floor below the box.
In the end, your cat and litter will dictate if this is an amazing discovery or just another failed promise.
Note: Lazy Litter Box was originally test marketed in early 2017 as Lazy Litter Tray, priced $10 more than the current offer. 
Alternatives
You may recall another sifting litter box that advertised in recent months called Sift Away. You can find that in stores for about $20, and our review of Sift Away can be found here.
There are several sift litter boxes available online and in stores, ranging anywhere from $15 to $60. A popular model on Amazon is the Lift N' Sift, which costs about $28 with shipping.
Another option is a self-cleaning litter box which can run anywhere from $40-$200.
On the highest end of the spectrum is the Litter Robot, which is on its third generation and runs almost $700.
Your Lazy Litter Box Reviews
Have you used Lazy Litter Box? Let us know what you think by leaving a comment below and a star rating above.