LegXercise is an ergonomically designed leg mover that simulates natural walking movements. Does it work as advertised? Here is our LegXercise review.
Sponsored Links
About LegXercise
LegXercise is a motorized leg mover that uses a passive exercise technique to replicate the muscle activity of walking from a seated position. The official website is legxercise.com, with a registration date of January 2012. The screen capture below was taken of the product website in June 2017.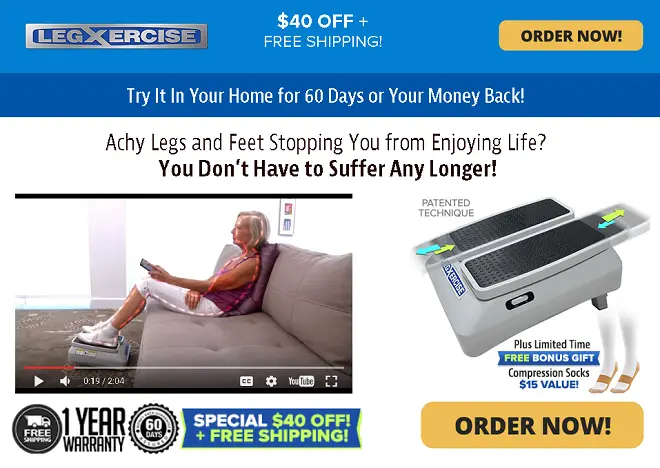 Claims & Features
Simulates walking while sitting
2 speed settings
Easy to use
Comfortable & calming
Assembly not required
Cost
LegXercice costs $159.99 with free shipping. There is an option to make three monthly payments of $53.33, but shipping is not free with this option, adding $31.98 in shipping for a total of $191.97. According to the website, LegXercise also comes with a free pair of compression socks. You can also find LegXercise on Amazon for about $130, although it doesn't come with the compression socks, nor does it allow you to make multiple payments. The product name of that listing also appears to have changed to "LegActivator" even though the comments clearly refer to the former name.
LegXercise Review
LegXercise (pronounced "legs-ercise") is a seated leg mover that is designed to improve blood flow by offering passive exercise. It consists of a base with two separate motorized plates that slide forward and backward. To use LegXercise, you simply plug it in and select the desired speed. Once activated, the foot plates will move in a sliding motion while the motor quietly hums with a volume that shouldn't be intrusive even in a quiet office.
It would be easy for some consumers to misunderstand what LegXercise does, as the name could imply that this is some sort of fitness device. In reality, it is more of an apparatus geared toward those with limited mobility and people who sit to the point that they suffer from leg problems. You won't "bulk up" your legs with this, nor is that the intent.
Sponsored Links
As someone who has sat at a desk for most of my adult life, I have suffered from various problems associated with this lifestyle. Cramps, compressed nerves, and poor circulation are among my chief complaints, and a device like this helps keep the legs moving and actually reduces many of the problems associated with prolonged sitting. There are others who would benefit from this device, too. Elderly who don't feel comfortable walking would certainly find this to be beneficial. Those with injuries or mobility-related afflictions could also reap rewards.
Although I wouldn't compare it to fitness-type leg devices, your leg muscles do get some use. Keeping your feet on the unit as it moves does stimulate the muscles enough to ward of cramping and problems associated with poor circulation.
No device, including LegXercise, will be a perfect fit for everyone, but I'm convinced that most people who use it will find some benefit. LegXercise is well made and highly rated by those who use it. While some may balk at the $130-$160 price tag, the cost of a single rehabilitation session can easily rival that.
Overall, I think that LegXercise is a winner, both in design and in function. It is ideal for elderly, diabetics, those with injuries, MS, recovering stroke patients, and people who sit or stand for long periods of time. It's not a fitness device per se, but I feel that it more than delivers on its advertised promises. If you have read or watched many of my reviews, you know that I rarely make such bold statements.
LegXercise has an Amazon listing (which has since changed to "LegActivator"), where it holds a 3.8 star rating. You may want to peruse consumer comments there to see what others are saying about it, although it is out of stock as of this June 2020 update.
Alternatives
If you have no major health problems and are looking for a seated leg exercise device, you may want to consider something like this motorized elliptical peddle exerciser, or this best-selling seated elliptical trainer.
Television Commercial
Your LegXercise Reviews
What are your thoughts about LegXercise? Drop a comment below and let me know what you think about it.
Updated June 2020