Light Bulb Bug Zapper combines a light bulb with a bug zapper into a single device. Read our Light Bulb Bug Zapper review.
Sponsored Links:
About Light Bulb Bug Zapper
Light Bulb Bug Zapper is a light bulb which doubles as a bug zapper. The official product website is lightbulbbugzapper.com, which was registered in July 2016. The screen capture below shows how the official website appeared in August 2016.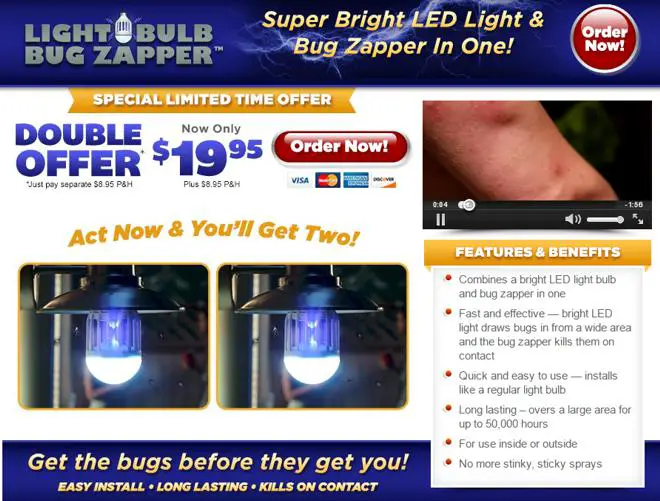 Claims & Features
Bright LED bulb and bug zapper in one unit
Kills bugs on contact
Installs like a regular bulb
Lasts 50,000 hours
Indoor or outdoor use
Cost
You can get Light Bulb Bug Zapper for $19.95 + $8.95 P&H. You can add a second bulb for another $8.95. This brings your total cost to $28.90 for one bulb or $37.85 for two.
Sponsored Links:
Light Bulb Bug Zapper Review
This device attempts to combine two products (bug zapper and light bulb) into a single unit. It features a bright LED which attracts flying bugs, and then zaps them with an electric current when they get too close. It is the same concept as a traditional bug zapper, but with a more compact design. Unlike a standard zapper, this product doesn't require an extension cord, as it can be plugged into any light socket.
Keep in mind that Light Bulb Bug Zapper will only work on flying bugs, so roaches, ants, and spiders may need to be dealt with in other ways. It is an excellent choice for flying pests such as months and flies. Once a bug is zapped, there may be a smell which emanates from the bulb, which is also the case with standard zappers.
Although the advertising hypes this product's ability to kill mosquitoes, there have been studies which indicate bug zappers may actually increase the number of mosquito bites by those who use them. A study from Notre Dame found that bug zappers attract mosquitoes but rarely kill them, leading to more bites, not less.
Overall, we think the design of Light Bulb Bug Zapper will prove to win over consumers, and we estimate the eventual star rating among customers will fall in the 3.5 to 3.7 star range. As a light bulb, it is quite expensive, and for the same price you can get a full-fledged bug zapper. On its own merits, however, we think Light Bulb Bug Zapper will perform well enough to garner mostly positive reviews.
Alternatives
There are a number of light bulb bug zappers available online for about $20 each. For a more traditional bug zapper, you may want to take a look at the Flowtron BK-15D, which has over 6,000 consumer ratings on Amazon, and is currently listed the #1 Best Seller in its class.
Your Light Bulb Bug Zapper Reviews
Have you used Light Bulb Bug Zapper, or are you considering buying it? Tell us what you think in the comments below and leave a star rating above.