Liner Ready is a semi-permanent eyeliner that stays on for up to five days, but can be easily removed with makeup remover. Does it really work? Here is my Liner Ready review.
Sponsored Links
About Liner Ready
Liner Ready is a semi-permanent tattoo eyeliner that comes with a felt-tip applicator. This waterproof eyeliner can last up to five days without smearing or smudging. The official product website is linerreadyoffer.com, which was registered in October 2017. The screenshot below shows how the product website looked in December 2017.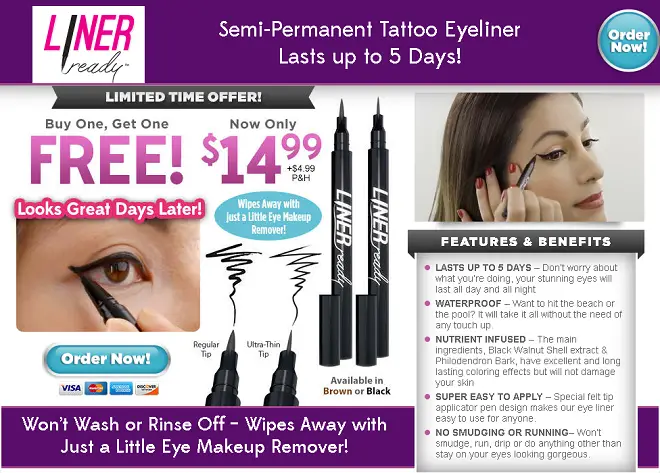 Claims & Features
A single application lasts up to 5 days
Water resistant (will not come off when showering or swimming)
Infused with Black Walnut Shell extract and Philodendron Bark
Felt tip applicator makes application simple
Will not smudge, run, or drip
Cost
Liner Ready comes in sets of two applicators which include a regular tip and precision tip. The cost is $14.99 + $4.99 P&H for a total of $19.98.  Available color options include black and brown. At the time of this writing, Liner Ready is not available in stores.
Sponsored Links
Liner Ready Review
If the idea of a long-lasting waterproof eyeliner sounds appealing, the makers of Liner Ready may have just the product for you. This semipermanent eyeliner is said to last up to five days, as well as being waterproof and smudge resistant.
Liner Ready's two available tips are similar to what you'll find on other all-day eyeliners, allowing you to apply eyeliner with precision. In fact, you'll get two pens per order, with a regular tip and "ultra-thin tip" to allow for the finest of details. Despite being marketed as semipermanent, you can still remove it or correct mistakes by simply using standard makeup remover.
I wouldn't expect Liner Ready to last five days, despite the advertising claims. It can probably last up to five days under ideal conditions, but my guess is that most users will still find themselves applying it once a day. That said, an all-day liner is still quite coveted, and may be good enough for the majority of women who use this product.
Overall, if you take the "five-day" claim with a grain of salt, you may find that Liner Ready suits your needs, and will probably last all day with little to no reapplication required.
At a cost of about $20 for two pens, Liner Ready is about average cost-wise, although there is no way to order a single pen. If it ever arrives in stores, it will be a better deal without shipping costs. I think that most consumers will probably find that this works, but I doubt many users will get five days from a single application.
Liner Ready appears to be a test marketed item, which means it could be slow to ship. Watch my video below highlighting some of the ways As Seen on TV products are test marketed, and why they are often slow to ship.
Alternatives
You can easily find semipermanent eyeliners in stores and online, ranging anywhere from $5-$25. This $5 model by Stargazer, for example, looks quite a bit like Liner Ready, even down to the shape of the pen and size of the tip.
Your Liner Ready Reviews
Have you used Liner Ready or something like it? Leave a comment below and a star rating above to let us know your thoughts.