Liquid Hold is a spray designed to stop rugs from slipping.
Sponsored Links
About Liquid Hold
Liquid Hold is a spray product which is advertised as a way to keep carpets and rugs in place without damaging the floor.
The product website is liquidhold.com, which was registered in May 2015. The screen capture below shows the official website in September 2015.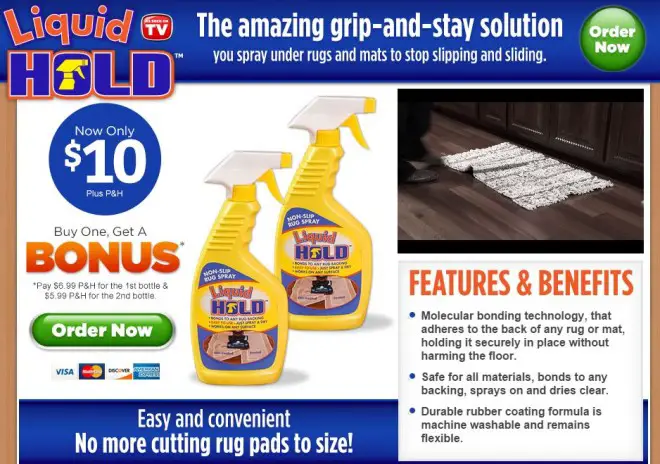 Sponsored Links
What They Claim
Adheres to the back of any rug
Doesn't damage floor
Sprays on and dries clear
Machine washable
Perfect for all rugs and mats
Liquid Hold Cost
The cost is $10 + $6.99 shipping, but you are required to pay another $5.99 shipping for a second product, bringing your total to $22.98.
Reviews
Liquid Hold is advertised as a somewhat new type of product, spray on rug backing products have been around for some time. The concept is that you are essentially spraying on a new rubber backing. Using it is simple: You just spray on and let it dry. Once ready, your rug or mat should stick to the floor better than it did before.
If you have tried rubber mat grippers in the past, you may be pleasantly surprised with this spray on technology, which is often superior to old-school grippers.
Most rugs handle this type of product well, although getting the edges just right may take a little trial and error.
Liquid Hold is competitively priced against other popular brands of spray on rug backing products. It's unfortunate that consumers are not allowed to opt out of the 2nd free unit, but even with the second shipping cost, it is still below the cost of similar products. When it becomes available in stores, it will be a much better value.
Your Liquid Hold Reviews
Let us know what you think of Liquid Hold by leaving a comment below and a star rating above.