Lite Up Locket is a locket which lights up and magnifies its contents. Does it work? Read our Lite Up Locket review.
Sponsored Links
About Lite Up Locket
Lite Up Locket lights up and magnifies pre-printed or even custom images. The official website is liteuplocket.com, which was registered in June 2016. The screen shot below was taken of the product website in December 2016.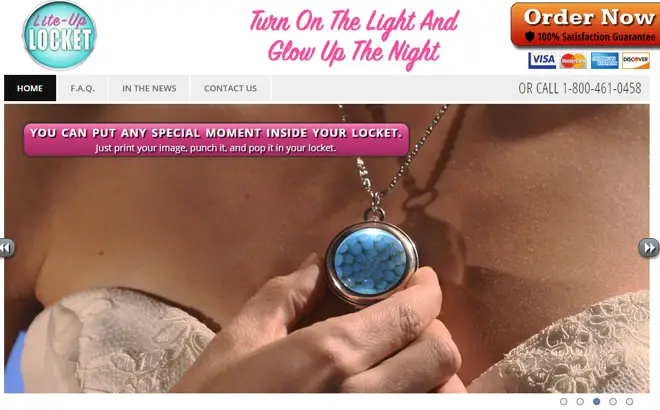 Claims & Features
Lights up and magnifies
Choose from hundreds of included designs, or create your own
Made of "high quality designer silver tone"
Will go with any type of outfit
Cost
Lite Up Locket costs $19.99 + $6.99 shipping for a total cost of $26.98. This item isn't available in stores.
Sponsored Links
Lite Up Locket Review
Lite Up Locket is a kit which allows you to create custom or pre-printed designs for a locket that lights up. It includes the locket, charms, 100 designs, a circle puncher, and an app which helps you resize images to fit in the locket. The clear cover also serves as a magnifying glass to enlarge the image within.
The advertising for Lite Up Lockets is rather interesting. The jingle and about half of the commercial gears the product toward kids and teens, while the rest targets "mom and grandmas."
It isn't clear how many grandmas will wear a lighted locket, although some probably would. It is clear, however, that this item is geared toward kids and teens who are the most likely to adorn this type of item.
You shouldn't expect the necklace to be of the highest quality, but it should be acceptable for the price. Keep in mind that "silvertone" is costume jewelry – not silver – and requires care when cleaning. (If custom jewelry turns your skin green, try using clear nail polish on the part of the necklace that touches the skin.)
There is a novelty factor to Lite Up Locket that we like, particularly because it is a rather unique item. We think they've included enough tools – between the app to resize pictures, to a circle punch – to make this a worthy item.
Lite Up Locket is still a new item, and this can sometimes affect shipping times.
Overall we give this a moderate thumbs up.
Alternatives
A cursory search of "light up locket" on Amazon will yield you a robust array of competing products, although most of these are typically glow in the dark lockets, rather than lighted lockets.
Your Lite Up Locket Reviews
If you've used Lite Up Locket, give us your thoughts by leaving a comment below and a star rating above.