Lizard Cam is a small HD camera secured to 11 feet of serpentine tubing that connects to any smartphone. Does it really work? Here is my Lizard Cam review.
Sponsored Links
About Lizard Cam
Lizard Cam is a high-definition mini-camera attached to the end of 11 feet of flexible tubing. The footage can be watched in real-time on a smartphone screen, and can be used to view hard-to-reach places. The official product website is buylizardcam.com, which was registered in October 2017. The screenshot below shows how the product website looked in December 2017. Note that the price shown below was changed within days of taking this screenshot.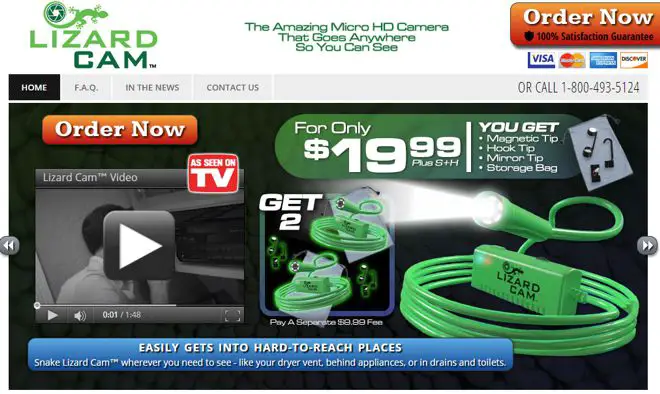 Claims & Features
HD micro camera with 11 feet of flexible tubing
View places that are difficult to reach (vents, behind appliances, drains, toilet, etc.)
Contains a LED on the end
Waterproof
Compatible with any smartphone (Android, Windows, or iPhone)
Cost
The pricing of Lizard Cam has changed since the screenshot above was taken. It was originally $19.99+6.99 shipping for a total of $26.98. The price has since been changed to $39.99 with free shipping. There is an optional double offer for a separate fee of $19.99 which would raise the total to $59.98. Each unit comes with a storage bag and three attachments (mirror tip, magnet tip, and hook tip). At the time of this writing, Lizard Cam is not available in stores.
Sponsored Links
Lizard Cam Review
The advertising is compelling: A lighted camera on the end of a flexible snake that allows you to see in tight spaces and behind large objects. Lizard Cam is an As Seen on TV inspection cam that will allow you to do just that.
To use Lizard Cam, you simply sync the device up with your smartphone and fish the line wherever you want to look. LED lights on the tip of the camera will illuminate your path as you guide the snake into tight spaces or behind large objects such as a refrigerator. You can see all of the action as the camera on Lizard Cam transmits the video to your synced smartphone. I wouldn't expect the image to be very high quality – or the LED's to be terribly bright – but it should suffice for most jobs. The uses are practically endless, from working on cars to DIY repairs around the house. The included extras provide some additional usefulness, especially the hook which can help you retrieve items dropped down a drain or in other hard to reach areas.
Durability-wise, I would expect Lizard Cam to hold up to everyday rigors, although I wonder how repeated flexing of the same area would affect this long-term.
When I first noticed Lizard Cam, the price was $19.99 with $6.99 shipping, but that changed to $39.99 with free shipping. The original price would have made Lizard Cam a great deal compared to the competition, but the new price puts it about on par with the rest.
Overall, it's a simple yet elegant design that I feel will live up to consumer expectations. I believe Lizard Cam has the potential to be a hot-selling As Seen on TV item in 2018.
Based on its changing price and recent website registration, I believe Lizard Cam is currently being test marketed to determine consumer interest (and to set a price point that will sell). Below is a short video which details some of the methods used for As Seen on TV test marketing. Because test marketed items are often very slow to ship, you may want to look into a few alternatives (below) before making your final decision.
Alternatives
You may be surprised to find quite a few Bluetooth inspection cams online, ranging in price from about $30-$40. This $37 model by Depstech is an Amazon Best Seller and holds a solid 4.4 star rating among over 800 customer reviews.
Your Lizard Cam Reviews
Have you used Lizard Cam or something like it? Leave a comment below and a star rating above to let us know your thoughts.