Lo-Bak Trax is a compact spinal traction apparatus that diminishes back pain. Does it work as advertised? Here is our Lo-Bak Trax review.
Sponsored Links
About Lo-Bak Trax
Lo-Bak Trax is an ergonomically designed dual traction accessory that alleviates pain in the back from a variety of causes. The official website is lobaktraxoffer.com, with a registration date of August 2016. The screen capture below was taken of the product website in July 2017. The domain lobaktrax.com has also been used and seems to be the exact same website, however the website currently used in advertising is lobaktraxoffer.com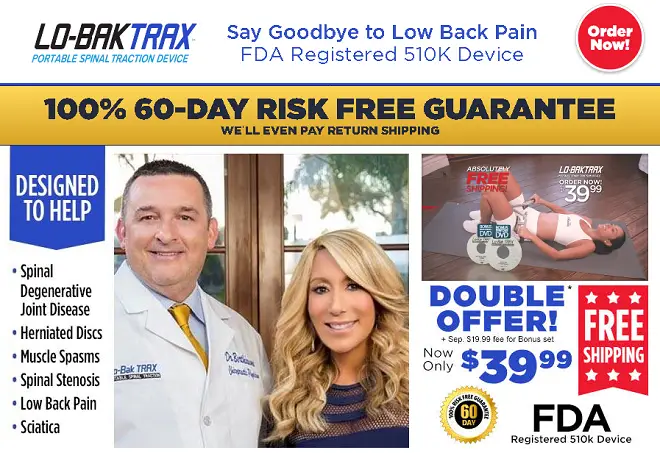 Claims & Features
510k equipment registered by the FDA
Ease back pain at home
User-friendly and enjoyable
Can be used while lying on the floor or on a bed
Degree of orthopedic traction can be adjusted
Lightweight and easily transportable
Convenient for storage
Cost
Lo-Bak Trax costs $39.99. There is an optional double offer that costs $39.99 + $19.99 for a total of $59.98. Shipping is free on both offers. Each unit comes with an instructional DVD and a stretching DVD.
Lo-Bak Trax Review
Lo-Bak Trax is the appropriately named product that provides back traction in the form of a v-shaped handlebar that you place between your legs. To use Lo-Bak Trax, you simply lay on your back, pull your feet up so that your feet are on the ground and knees are bent, place the device between your thighs, and press downward on the handles. Ideally, this allows you to decompress your spine, which leads to temporary relief from back pain.
Sponsored Links
By pulling up your feet, your spine is flattened, and pressing the handles on this devices pushes the upper torso away from the lower back, stretching the spine and relieving pressure. It's an exercise you'll need to perform about 10 minutes a day in order to see results over time.
Bad backs run in my family, and I've tried most devices marketed to relieve lower back pain, from cushions to braces to stretching devices. A good friend of mine is a chiropractor and has always urged me to do stretches, particularly when my back is giving me problems. The motion of Lo-Bak Trax mimics some of the stretches that I do regularly, but they are perhaps a little easier while using this device because you can use your arms to help in the process.
Despite the name's implication that this is only for lower back pain, the makers claim that you can relieve back pain as high as your shoulder blades by simply moving Lo-Bak Trax higher up your thighs, toward your knees. This changes the angle in which your arms move, and targets areas higher up the spine.
If you haven't found enough relief from doing stretches, Lo-Bak Trax could be a good way to stretch your back in a way that you can't with traditional stretches. It could also be a good fit for those who travel and can't take a traction device with them on the road.
You should expect to use it daily for several weeks before seeing results, and some of the product's negative reviews have been written by those who expected results upon the first couple of sessions.
While the claims for Lo-Bak Trax are wide-ranging, no two back conditions are the same, and not all users will benefit from this device. If the pain you experience in your back is related to compression, this will be an excellent product to try. You may want to peruse additional user comments on Amazon, where Lo-Bak Trax sports a respectable 3.8 star rating.
If you have back pain, I'd suggest seeing a doctor before using any device to try to treat it. My chiropractor friend once told me that a significant percentage of his patients are those who tried to self-diagnose and treat their back pain, and ended up making their problems worse.  On the other hand, if you've been to doctors and nothing has helped, I'm sure $40 is a small price to pay to see if this device works. I have a set of stretches that I do regularly, and I'm not sure if Lo-Bak Trax is an investment that can replace those. I do have family members who struggle to perform stretches, however, and this would be ideal for them.
Alternatives
Teeter makes a popular brand of inversion tables that are more expensive but have a legion of followers. On the cheaper end of the scale, you can find back stretchers for under $20, such as this model which has about the same consumer rating as Lo-Bak Trax.
Television Commercial
Your Lo-Bak Trax Reviews
What are your thoughts about Lo-Bak Trax? Drop a comment below and a star rating above to let us know what you think about it.