Lock & Rollin' is a set of slats that can lock together to provide a stable attic floor.
Sponsored Links
About Lock & Rollin'
Lock & Rollin' is an easy alternative to setting down flooring in attic spaces to allow more storage room.
What They Claim
Easy 3-step installation
Strong and secure
Mold, mildew, water resistant, and termite-proof
Lightweight and durable
Recyclable materials
No measuring or cutting required
Lock & Rollin' Cost
You can choose between two different package orders:
Sponsored Links
"Best Deal" – 4-on-the-floor starter pack: $399.80; 64 sq ft, $50 in reward points and free shipping
2-pack – $249.90 plus $25.00 S&H, 32 sq ft
Reviews
Lock & Rollin' (also written as Lock and Rollin' or Lock N Rollin') is a clever invention which converts unused attic space into a usable area via panels which roll out to provide floor space over attic joists.
The product offers some distinct advantages over the traditional method of laying plywood in the attic. That method can be difficult to measure precisely enough to prevent plywood from moving or slipping when walking from section to section. With Lock & Rollin', the pre-measured and easy to install design leads to a more stable floor space.
The cost of $250-$400 may be out of reach for some consumers, but for those who don't mind the investment, we feel it will be a satisfying investment.
The product website is lockandrollin.com, which was registered in August 2013. The screen capture below shows the official website in September 2015.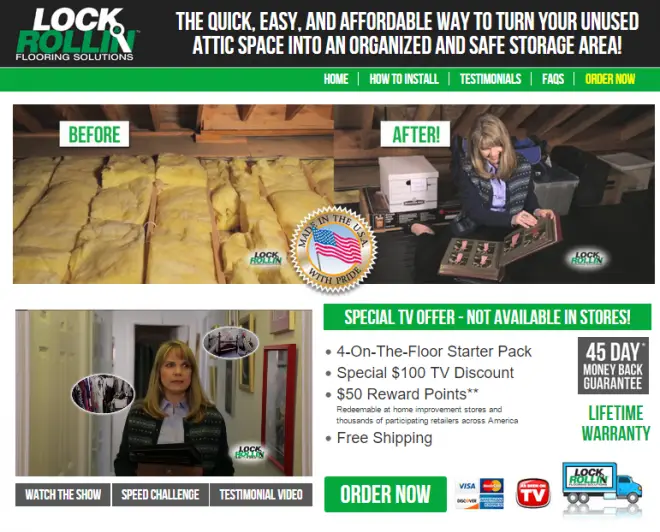 Lock & Rollin' is a relatively new product, with a Trademark filed in 2013 and updated in 2015.
Your Lock N Rollin' Reviews
Let us know what you think of Lock & Rollin' by leaving a comment below and a star rating above.