Luma Stones are touch-activated light-up decorative and functional stones.
Sponsored Links
About Luma Stone
Luma Stone is a product which can function as a decorative piece or a functional nightlight.
The product website is getlumastones.com, which was registered in October 2015. The screen capture below shows the official website in February 2016.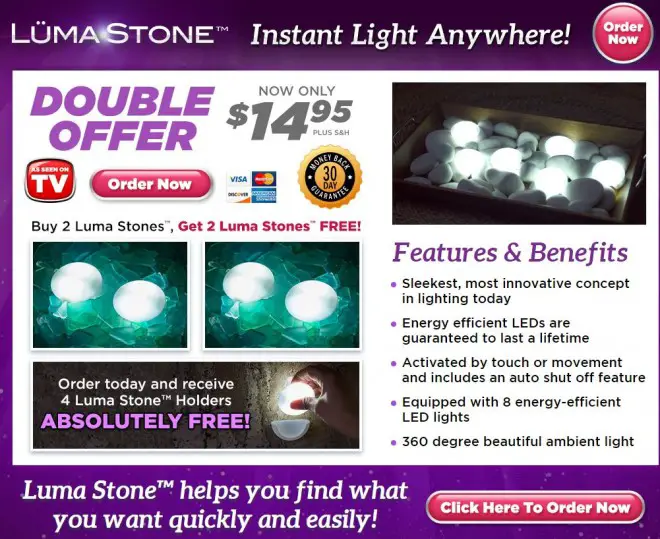 Sponsored Links
What They Claim
Energy efficient LED
Guaranteed lifetime
Touch activated
Auto shutoff
8 energy efficient lights
360-degree ambient light
Luma Stone Cost
Luma Stone costs $14.95 plus $5.95 shipping for a total cost of $20.90. There is a 30-day money back guarantee.
Reviews
Luma Stone at its core is simply an LED touch light. Where it differs from the countless other touch lights is primarily in its shape, which allows for light to shine at 360 degrees.
The standard touch light features a back and 180 degrees of light, which certainly gives Luma Stone an advantage. The sleek design is attractive, and it seems that Luma Stone can function in a wide variety of uses, such as night light, flashlight, bedside light, etc.
There are times when you probably don't want the touch or movement feature to be activated, such as in a toolbox as shown in the commercial. Walking with a toolbox sporting a Luma Stone would seem likely to drain the battery with excessive activations.
The auto-shut off is also a nice feature in some instances, although there are probably times that 15 seconds is not enough.
There is very little information about the product on the official website, and we have reached out for additional information from the company. Details we would like to discover are the type of battery required and how it is shown mounted in the ads, when no mounting is listed on the site (other than Luma Stone Holders, which have little explanation how they are mounted).
Your Luma Stone Reviews
Have you used Luma Stone? Give us your review by leaving a comment below and a star rating above.