Magic Level is a leveling tool for wall hanging that combines a nail holder and a laser light. Does it work as advertised? Here is our Magic Level review.
Sponsored Links
About Magic Level
Magic Level is a reasonably priced laser leveler that uses an expandable nail holder to measure and calculate straight lines. The official website is buymagiclevel.com, with a registration date of April 2017. The screen capture below was taken of the product website in April 2017.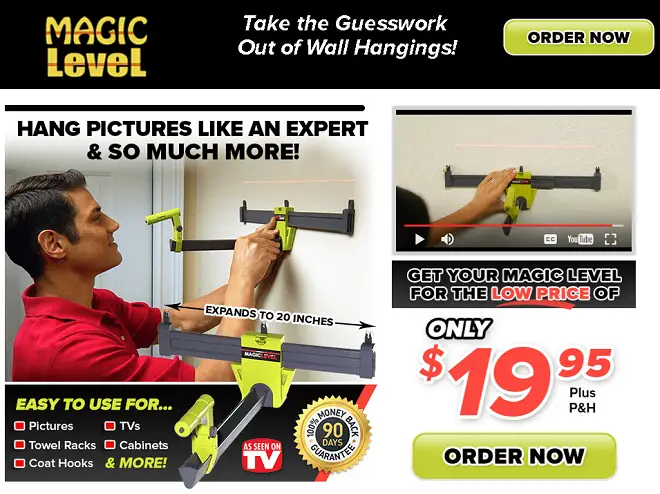 Claims & Features
Safely & precisely hang almost anything
Quick & simple to use
Combines a nail holder and laser sight
Adjustable dimension ruler (expands up to 20″)
90 day money back guarantee (less shipping)
Cost
Magic Level costs $19.95 + $6.95 shipping for a total of $26.90.
Magic Level Review
If you're not exactly the most formidable DIY'er, the makers of Magic Level may have just the thing for you. This As Seen on TV product helps you easily mount items on your wall, without the need to measure.
Sponsored Links
There are several features of Magic Level, all which work in tandem to help you hang objects easily. The commercial doesn't really give a good indication how Magic Level really works, however. At first I thought it was simply a device which helped you find a straight level line on the wall, but that's not quite what it does.
The idea behind Magic Level is to remove the need to measure, while eliminating all the guesswork when you hang something. There is a laser light attached to a rod that extends from the unit. You guide the laser along the rod until the light matches the width of what you are measuring. You then adjust the angle of the light to align with the top of the frame. Next, you can adjust guides to line up with the position of your mounting screws.
After everything is lined up, you'll then take Magic Level to the location where you want to hang your object and hold it against the wall. The laser will show you where the top of the frame will go, and you can then insert screws into the guides. To make things even easier, the guides will hold the nails for you, so you don't have to risk striking your hand.
Once you have your screws or nails in place, you simply remove the Magic Level and place your item on the wall.
If you are someone who regular hangs items from your walls, and especially if you have trouble doing so, Magic Level could be a godsend.
Keep in mind that the "leveling" part of Magic Level is relegated to a small water level in the center. Anyone who has relied on such a small level knows that it is still possible to hang a crooked picture, although I think most people should get them pretty straight when they use it.
This item appears to be engaged in a small marketing campaign. I'll be interested to see if this one makes it out of the test marketing phase. Do consumers hang enough frames to make this a worthy purchase? Only time will tell.
Alternatives
There are quite a few picture hanging levels, ranging in price from $15 to $80. To its credit, however, I haven't seen another item quite like Magic Level… yet.
Television Commercial
Your Magic Level Reviews
What are your thoughts about Magic Level? Drop a comment below and a star rating above to let us know what you think about it.