MagicBax Review: Do They Work?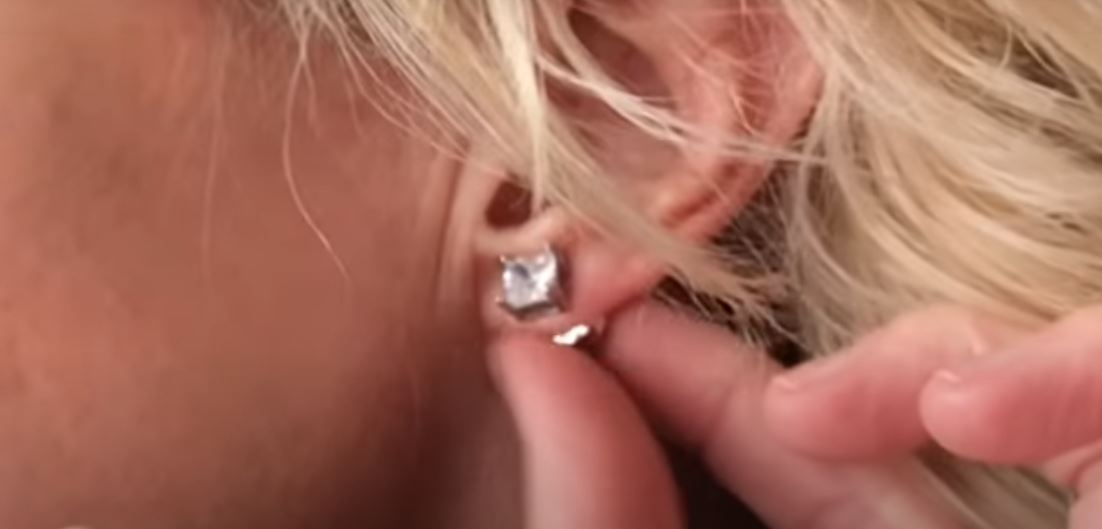 MagicBax are earring lifters that lift and support the position of earrings. Do they really work? Here is my MagicBax review.
Sponsored Links
About MagicBax
MagicBax are backs to earrings that lift and support in the case of botched piercings, sagging earlobes, or heavy earrings. The official product website was originally magicbax.com, which was registered in September 2017. The screenshot below shows how the product website looked in November 2017. As of this 2020 update, that website is no longer online.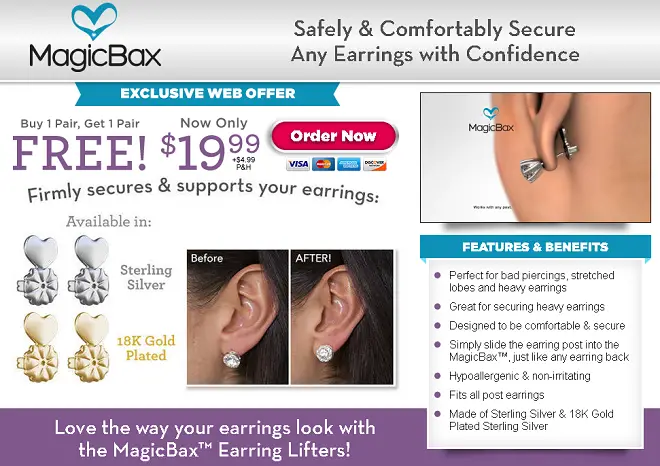 Claims & Features
Ideal for poor quality piercings, stretched earlobes, or heavier earrings
Secure and comfortable
Easy to use (just slide Magicbax over the earring post)
Will not irritate skin (hypoallergenic)
Compatible with all earring posts
Manufactured from sterling silver and 18k gold plated sterling silver
Cost
You can now find MagicBax in stores for about $20 for a set of two or on Amazon for about $12.
MagicBax Review
If you've struggled with droopy earrings, the makers of Magic Bax may have just the item for you. This is an As Seen on TV set of support earring backs that are said to lift and prevent droop.
Sponsored Links
The design of Magic Bax is simple: A large, flat base that slips onto any earring in order to provide additional support. This is achieved by the elongated base which rests against the back of the earlobe, preventing the earring from sagging or falling forward. Another benefit to Magic Bax is that by preventing the earring from drooping, it could also help prevent slow tearing of the piercing. Over time, this could lead to a torn earlobe.
The good news is that MagicBax will likely work for the majority of those who use it because this type of design has been around for awhile and has been proven to work. With sterling silver and gold plated options, the worry of a negative reaction should also be minimal.
The potential cons are minimal. If you have a small earlobe, for example, there is a chance that MagicBax may be seen peeking out from underneath your ear. Additionally, there is a chance that these could cause irritation if you leave them on 24 hours a day.
If you can't find it in stores, you may want to investigate alternatives, such as Lobe Wonder, which offers earring support patches that cost about $16, and sport a high consumer rating. Levears is perhaps even closer in design to MagicBax, although that item costs about $50.
Below is a video review of MagicBax by my very good friends, the 2c Chicks, who I have talked to about this product before and after their review. I find it interesting that they had somewhat different results between the two of them.
Your MagicBax Reviews
Have you used MagicBax or something like it? Leave a comment below and a star rating above to let us know your thoughts.
Updated June 2020.
Tags: