MaxOut Grout is a brush-on gel that cleans stains without the need to scrub. Does it really work? Here is my MaxOut Grout review.
Sponsored Links
About MaxOut Grout
MaxOut Grout is a tile and grout cleaner that is brushed on and wiped off, with no scrubbing needed. The official product website is maxoutgrout.com, which was registered in August 2017. The screenshot below shows how the product website looked in October 2017.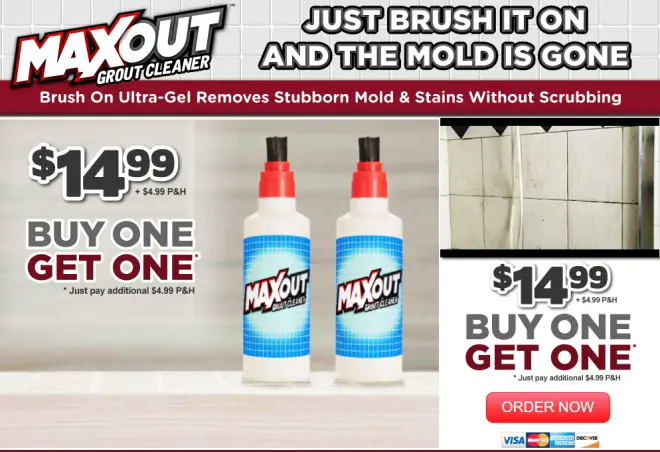 Claims & Features
Brush-on mold and mildew destroyer
Ultra concentrated
Bristle brush cap
Let stand for 30 minutes, then rinse
Less than 5% chlorine
Ideal for tub, tile, shower, and sink
Cost
MaxOut Grout costs $14.99 + $4.99 P&H but there is a mandatory second bottle for another $4.99, bringing your total to $24.97 for two bottles.
MaxOut Grout Review
The advertising for MaxOut Grout is compelling: A brush-on, wipe-off mold and mildew "destroyer" that requires no scrubbing. All you do is brush it on with the bristle cap applicator, let it set, and wipe it off. Then we are shown in the advertising that nasty tile is instantly restored to a like-new condition. But can you really restore grout without any scrubbing at all?
MaxOut Grout is said to contain less than 5% chlorine, although we aren't told what the active ingredient is. While I understand that avoiding chlorine could be a concern for some users, it's also one of the best substances to clean grout. Chlorine bleach, however, releases toxic vapors and can stain clothing, and can discolor grout over time. I have reached out to the company for an exact ingredient list and will update this space if and when they respond.
Sponsored Links
I know people who swear by bleach as the ultimate cleaner around the house, while others opt for a safer option like OxiClean. If the use of chlorine is of a concern to you, MaxOut Grout could be a good option, but so could OxiClean, which you can buy in a 7 pound box for around $20.
You can use MaxOut Grout on a multitude of surfaces, and not just tile. We are told that it can be used on showers, tubs, sinks, caulk, and refrigerators. The same could also be said of most cleaners in this category, like Zap!, Restore 4, and OxiClean.
Because this gel is "ultra concentrated," you only need to use a small amount in order to achieve results. That's good because the bottles in the current offer are only 12 ounces. Compare that to the 32 ounce bottles sold by competitors (see below) and you'll find that this is on the small end of the scale.
One unique component of MaxOut Grout is the bush applicator, which is unlike most tile and grout cleaners. This will help with precise application of the product, but I doubt that a single stroke of the bristle will allow it to penetrate any deeper than if you were to apply cleaners by other methods.
This isn't the first product I've seen advertising that claims it can simply be applied and wiped off. You may recall Zap! and Restore 4, which have offered nearly identical demonstrations – and hold mostly positive consumer reviews. The original versions of these had an active ingredient of urea monohydrochloride, and most consumers agreed that they worked quite well, but the result usually weren't as quick and dramatic as the advertising showed.
From my conversations with those who have used these products, and from my own experiences, I suspect that Maxout Grout will please those consumers who have realistic expectations. No cleaner I've ever seen can perform the miracles shown in the advertising, at least not without some elbow grease in the mix. Despite the "apply and wipe" claims, I would still expect to scrub grout after applying MaxOut Grout.
In short, I feel that MaxOut Grout will perform well, provided you have realistic expectations, and know that you will probably have to do some scrubbing. There are, of course, other options, which I'll discuss below.
One more factor to consider is that MaxOut Grout appears to be a new item, based on its August 2017 registration date. With that in mind, I would expect shipping to take weeks to months, based on my past experience with new As Seen on TV products.
Alternatives
There are endless choices when it comes to grout cleaners. This Black Diamond Ultimate Grout Cleaner, for example, is an Amazon Best Seller and costs about $30 for a 32 ounce bottle. If you only have smaller areas to treat, you may consider this $3 Tilex Tile & Grout Pen, which is also a gel that is applied and wiped off. The $3 Clorox Bleach Pen is another nearly identical product to the Tilex version, can also be used on clothing, and has positive reviews. You can still also Zap Professional Restorer in stores such as Bed Bath & Beyond.
Your MaxOut Grout Cleaner Reviews
Have you used MaxOut Grout or something like it? Leave a comment below and a star rating above to let us know your thoughts.