The Water Pillow by Mediflow is a support pillow with a water-filled pouch that allows you to adjust firmness by adding or removing water. Today I offer my first-hand review of The Water Pillow.
Sponsored Links
Where to Purchase
I purchased the Mediflow Water Pillow from Amazon for about $50. You can also purchase it from the official website, mediflow.com, for about the same price.
About The Water Pillow
The Water Pillow by Mediflow is described as a fiberfill pillow that "floats on a thin layer of water for responsive support." It contains a fully-sealed pouch and features an adjustable thickness by simply adding or removing water.
Claims & Features
Clinically proven waterbase technology
Improves quality of sleep
Made in the USA
Can be adjusted to soft, medium, or firm
Fits a standard or queen pillowcase
Hypoallergenic
Includes pillow, cap, and funnel
The Water Pillow Review
When this product was first suggested to me by a viewer, I immediately had flashbacks to my childhood when water beds were all the rage. The thought of a water-filled pillow was enticing enough for me to find one on Amazon and place my order without hesitation. What I expected and what arrived were not quite the same, however, although that's not necessarily a bad thing.
Perhaps based on my vague memories of water beds, I anticipated a mini-waterbed, or perhaps an over-sized hot water bottle. Neither was the case, however. The Mediflow Water Pillow looks and (mostly) feels like a regular pillow. The only discernible difference at first glance between this and a standard pillow is that you can feel a plastic material on one side and standard pillow material on the other. Thus, rather than an encased water interior, The Water Pillow features water on one side and a standard pillow on the other.
Sponsored Links
The instructions state that you can add 1, 2, or 3 liters to achieve a soft, medium, or firm pillow. Adding the water is straightforward, with removal of the cap, attaching the included funnel, and pouring in your desired amount of water. I started with medium (2 liters) as the directions suggest. The instructions state to put the pillow on its end on a chair in order to facilitate the filling process. Once it is filled, you then push out the air and seal it up. All of this went without a hitch, and I was ready to try my first night.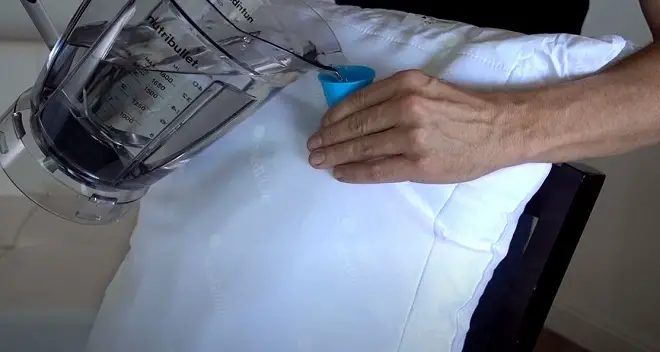 I wasn't really sure what to expect, but my first test was certainly different than a normal pillow experience. Laying my head on the pillow felt almost too normal at first. The water part was not as obvious as I would have assumed, but its effect becomes more apparent as you move around on the pillow. Rolling over from my back to my side allowed me to actually feel the mass of the pillow move below my head, although it was not in a watery or "sloshing" manner. You simply feel the pillow yield to your head. It's a different sensation and takes some time to get used to.
My first night was not as comfortable as subsequent nights, mostly likely due to the fact that I had the pillow with a medium setting. On the second day, I emptied out a liter of water used the soft setting from that point forward. Whereas my neck was sore after the first night, I never had that problem once I found the right softness for me.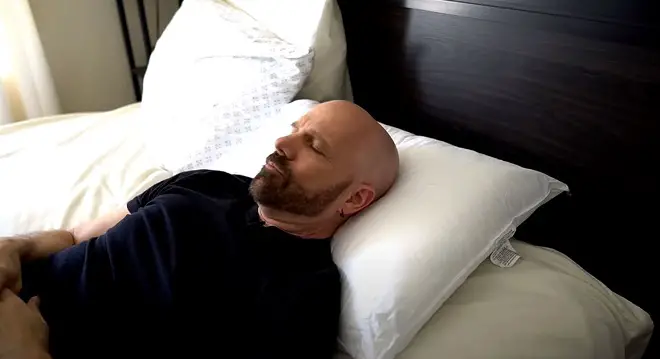 For my YouTube video (below), I continued to use The Water Pillow for about another week before reporting my conclusions there. I found the pillow to be an interesting and different experience, and I can see why many users swear by it. I like the fact that you can adjust the firmness, and that the pillow yields to your head. Although I do recognize those features, they were not compelling enough for me to make the switch permanently.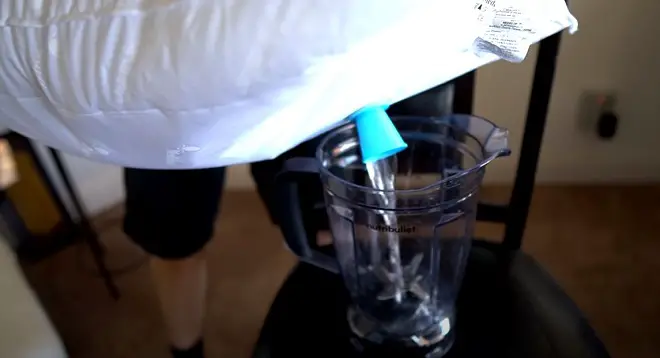 One feature that stood out to me was the fact that the water is completely underneath the pillow itself. I realize that this is by design, but from a consumer standpoint it prevents the ability to flip the pillow over, as many sleepers like to do. With so many "cooling" pillows out there, I thought the water might be used in such a manner, but that is not the case. There is no cooling feature due to the water because you have essentially an entire pillow between you and the water pouch.
I continued to use The Water Pillow for about a month before switching back to my Beautyrest Aquacool pillow. If you have had problems finding a pillow that's right for you, The Water Pillow should probably be on your short list of options to try.
Below you can watch my full video review of The Water Pillow. 
Alternatives
My assumption is that you are considering this pillow because you have not had good luck with standard pillows in the past. I suggest taking a look at the Purple Pillow for a totally different experience, although it does come with a hefty price tag. It was my go-to pillow for two years and I still believe it's a fine pillow. The modern Beautyrest line is exemplary and reasonably priced. This is one example of this type of pillow.
You may also want to peruse the comments on Amazon about the Water Pillow to see what other consumers are saying about it.
Your Water Pillow Reviews
Have you used The Water Pillow or something like it? Tell me what you think in the comments below.