Meow Motion is a catnip infused toy ball for cats. Does it work as advertised? Here is our Meow Motion review.
Sponsored Links
About Meow Motion
Meow Motion is a durable plastic toy ball for felines that is filled with catnip infused toys. The official website is meowmotion.com, with a registration date of January 2016. The screen capture below was taken of the product website in July 2017.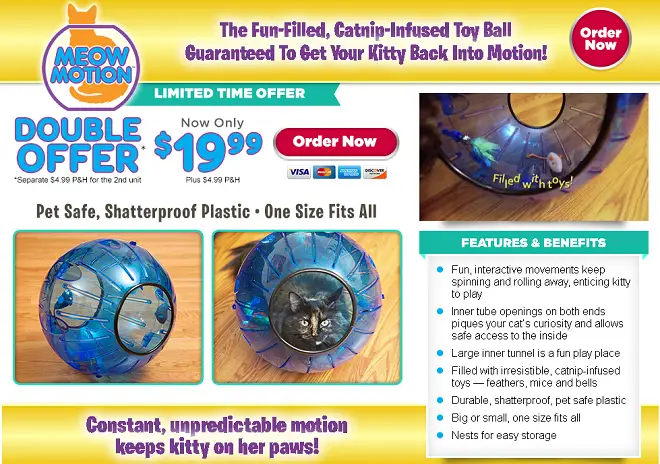 Claims & Features
Fun and safe for cats
Full of catnip infused toys (feathers, mice, and bells)
Manufactured from sturdy, shatterproof plastic
One size fits all
Splits in half and nests for storage
Cost
There is a mandatory double offer when ordering Meow Motion. It costs $19.99 + $4.99 double offer + $4.99 P&H for a total of $29.97 for two units. At the time of this writing, Meow Motion is not available in stores.
Sponsored Links
Meow Motion Review
Meow Motion is a large plastic hollow ball with openings on either end that allow your cat to explore inside. Inside the toy, you'll find several catnip-infused toys. It's a rather large ball, and although though the commercial states that it is "one size fits all," it seems that larger cats may be relegated to sticking their heads through the opening, and pawing whatever is inside. Smaller cats will be able to enter, crawl through, and even hide inside.
There really isn't much to Meow Motion other than being a hollow ball. It doesn't light up, move on its own, or make sounds, so it's up to your cat to get it to move. It does include a few catnip-infused toys, which will likely get your cat's attention at first. The allure of catnip toys tends to dissipate quickly, however.
Every cat is different, and pet owners are probably the best judge as to whether or not their felines would respond to a product like Meow Motion. If your pet isn't inclined to play with toys, I wouldn't expect this one to suddenly bring out a new playful demeanor. Keep in mind that it is essentially a hollow ball with a few toys inside. Once the catnip wears off, it will be entirely up to your cat to engage this toy. I don't think this would entice the cats I've owned any more than a cardboard box with a few dollar store cat toys inside.
I'm not a fan of mandatory double offers, which is the case here. That means you are forced to pay almost $10 in non-refundable "processing and handling" costs, even if you decide to return the product. Because it's not available in stores, consumers are forced into this double offer if they really want Meow Motion. You may be tempted to wait until Meow Motion arrives in stores, but remember that most new As Seen on TV products never make it that far. The majority of products I've seen in this genre tend to disappear long before they have a chance to arrive on store shelves.
Alternatives
If you're just looking for catnip cat toys, this $9 collection is quite popular. There is also an entire category of cat ball beds, which don't roll, but do offer cats a place to hide while they play with toys or rest.
Your Meow Motion Reviews
What are your thoughts about Meow Motion? Drop a comment below and a star rating above to let us know what you think about it.