MicroBooms are a set of economical Bluetooth earbuds. Do they work as advertised? Here is our MicroBooms review.
Sponsored Links
About MicroBooms
MicroBooms are a pair of cost-effective Bluetooth earphones that feature high fidelity audio, a built-in microphone, and a one touch controller. The official website is buymicroboom.com, with a registration date of August 2012. The screen capture below was taken of the product website in June 2017.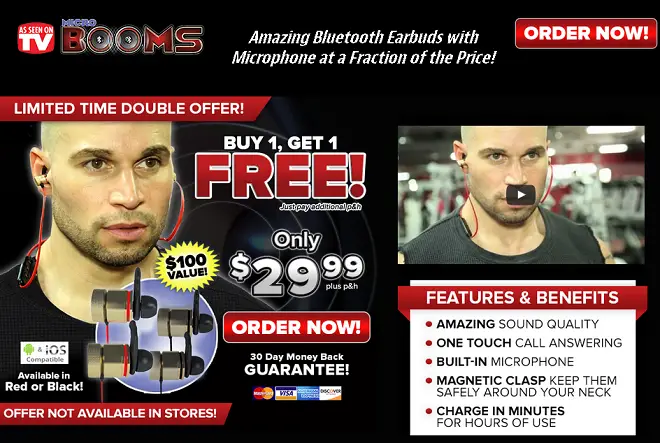 Claims & Features
Excellent audio quality
One touch call answering
Built-in mic
Rests securely around neck with magnetic clasp
Hours of usage with minutes of charging
Cost
MicroBooms cost $29.99 + $9.99 P&H for a total of $39.98. There is an optional double offer where a second set is added for an additional P&H fee of $9.99 which raises the total to $49.97. They available in two colors: black & red. At the time of this writing, MicroBooms are not available in stores.
MicroBooms Review
Bluetooth headphones have slowly risen in popularity in recent years, especially after Apple removed the earphone jack from its iPhone. One problem, however, has been that Bluetooth headphones and earbuds are typically more expensive than their wired counterparts. With MicroBooms, we are told that this pair of Bluetooth headphones retains the high quality consumers expect from modern earbuds, but without the high cost.
Sponsored Links
The earbuds are connected via a small wire that is designed to hang around your neck. A small control panel on the cord allows you to adjust volume, answer calls, and start or stop music. There is also a built-in mic that allows you to answer phone calls without having to touch your phone. These are all pretty standard features, which is actually a good thing, because consumers would expect no less, even for an inexpensive pair of Bluetooth earbuds.
While not in use, MicroBooms are designed to hang around your neck with the two buds magnetically clasped together. Although there are earbuds on the market without any wires at all, I am not a fan of that design because they are easier to lose. Thus, the connecting wire on this product is a better option in my opinion.
MicroBooms are charged via USB and can deliver about 8 hours of playback time, although this will vary based on how it is used, and potentially by the temperature in which it is used and stored.
The sound quality of MicroBooms should be sufficient for most consumers. You may not get the quality of a good pair of Beats headphones, but you also won't pay the cost of those. Overall, MicroBooms covers most of the essential bases and delivers a product that's about right for its price point. I think for $30, this is a solid offering, especially for those who don't expect too much for a pair of earbuds in this price range.
Alternatives
Despite what the commercial implies, not all wireless Bluetooth earbuds are highly expensive. Take, for example, this best-selling set by Senso, which costs about the same as MicroBooms, when shipping costs are considered. That product has nearly 15,000 reviews as of this writing. This set of Bluetooth headphones is actually less expensive, less visible, and sports high consumer ratings, although it is only a single earbud.
Television Commercial
Your MicroBooms Reviews
What are your thoughts about MicroBooms? Drop a comment below and a star rating above to let us know what you think about it.