MicroTouch Solo is a precision grooming tool for men that trims, shaves, and edges. Does it work as advertised? Here is our MicroTouch Solo review.
Sponsored Links:
About MicroTouch Solo
MicroTouch Solo is a smart razor that features dual sided stainless steel blades, a built-in light, and a pivoting head. The official website is microtouchsolo.com, with a registration date of January 2015. The screen capture below was taken of the product website in May 2017.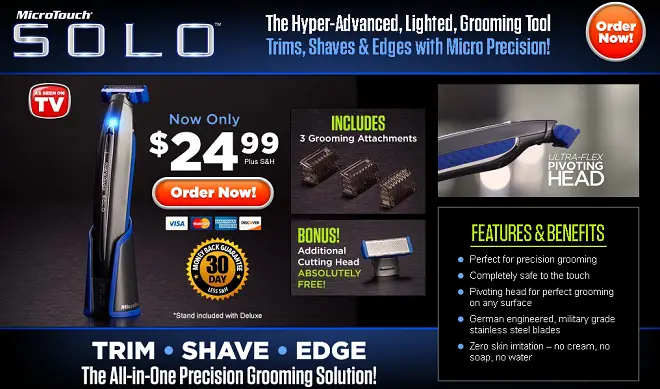 Claims & Features
Ideal for precise grooming
Safe to touch
Swiveling head contours to facial features
High quality dual sided stainless steel blades
Will not irritate skin
Cost
MicroTouch Solo costs $24.99 + $5.99 P&H for a total of $30.98. It comes with 3 different grooming attachments and a bonus cutting head. As of this writing, this offer is not available in stores.
Sponsored Links:
MicroTouch Solo Review
If the name "MicroTouch" sounds familiar, you've probably seen commercials in the past for grooming products such as MicroTouch Max and MicroTouch Tough Blade, with the latter being pitched by Brett Favre.
Now the brand is back with MicroTouch Solo, a hybrid electric trimmer and shaver that allows you to perform multiple shaving tasks all with the same blade.
With Micro Touch Solo, you have a razor that visually resembles a standard cartridge razor, but also performs like an electric shaver or trimmer.
You can precisely trim edges, shave through hair, or trim facial hair with the included attachment. One of the benefits of MicroTouch Solo is that you don't need to use it with shaving cream, and it doesn't cause razor bumps because it doesn't get as close to the skin as regular razors.
The advertising doesn't make it quite clear, but this type of razor won't provide a baby-smooth close shave that some men desire. It will effectively cut through facial hair and deliver a short and even stubble, but it won't give you the close shave of a cartridge or safety razor.
That said, for trimming both the edges and facial hair itself, I think most men will find this to be an excellent hybrid razor. Even coarse hair should be no match for MicroTouch Solo.
As with the MicroTouch Max, there is a built-in light, although I don't think this adds much to the value of the product. Most men shave in a well-lit bathroom, where light typically isn't a problem.
Should you pick one of these up, I highly discourage you from attempting to shave down south, as the skin there is not as forgiving when it comes to electric shaving.
What I haven't seen is the cost of replacement heads, but when I find that out, I'll update this space.
Alternatives
It would be difficult to discuss MicroTouch Solo without mentioning the Philips Norelco OneBlade, which looks and performs similarly. That item can be found for about $35, and boasts a solid 4.2 star rating among over 1,700 reviews, as of this writing. You may want to compare these two items before making your final decision.
Your MicroTouch Solo Reviews
What are your thoughts about MicroTouch Solo? Drop a comment below and a star rating above to let us know what you think about it.