Microtouch Switchblade is a 2-in-1 trimmer which puts head-to-toe trimming in the palm of your hand. But does it actually work? Here is our MicroTouch Switchblade review along with important product information.
Sponsored Links
MicroTouch Switchblade
This product is advertised as a one-stop product for many hair concerns, from body hair trimming to comb-through haircuts. The product is said to be a solution for all types of body and facial hair removal.
The name "switchblade" refers to its "2 in 1" feature in which you slide a cover to alternate between a mini trimmer for such things as nose hair, and the other end of the product which is a "full-size trimmer" which can groom larger areas. Both the mini and full-sized trimmers come with snap-on attachments designed at greater precision.
So does the MicroTouch Switchblade work? Reviewers here and online give it mixed reviews. The product has a flimsy, cheap feel to it, but when it works, it actually works pretty well. You may encounter issues with the cutter getting stuck or clogged. Some have also complained about the motor completely falling out. We didn't experience this.
There are other trimmers that hold up better for the price, but if you insist on getting one, head to a local store and avoid those pesky shipping fees.
Sponsored Links
Official Website
getswitchblade.com
Registered March 15, 2013
Contact Info
Address: Micro Touch Switch Blade, 400 Returns Rd, Wallingford, CT 06494
Phone: 866-518-6139
Email: [email protected]
Claims/Features
2-In-1 design includes lighted mini & full-size trimmers for head to toe grooming
Powerful enough for the tough stuff yet gentle enough for the most sensitive skin
Precision snap-on guides for superior control
Available in stores such as Walmart, Bed Bath and Beyond, and CVS.
30-day money back guarantee, less shipping
Cost
$19.99 plus $7.99 S&H = $27.98
Add the 10-Piece Grooming Kit for $6.99 shipping
Grand total = $34.97
You can't opt out of the Grooming Kit when ordering online.
Screenshots
This is a screenshot of the official Microtouch Switchblade website, as it appeared in December 2013: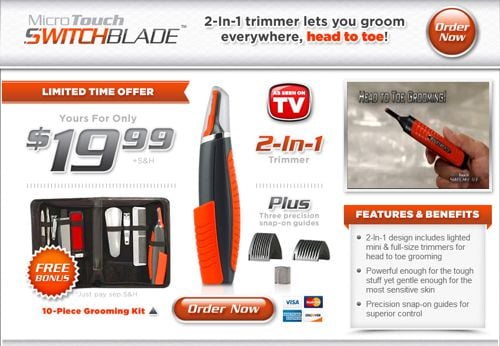 As you can see in the December 2014 screenshot, Brett Favre has been added as a celebrity endorsement.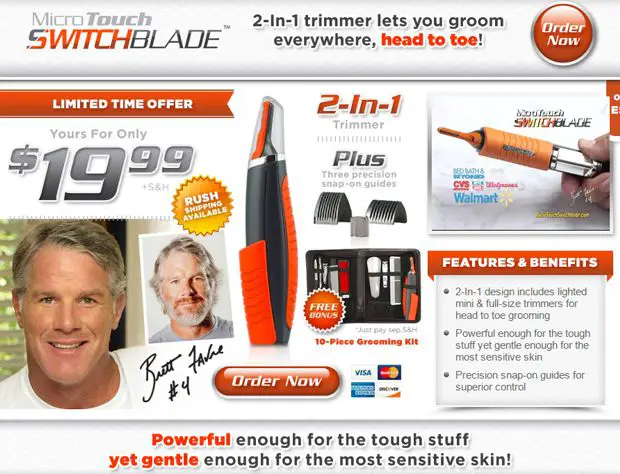 Television Commercial
This is a television commercial for Microtouch Switchblade, before Brett Favre became the celebrity spokesman.
Brett Favre
Sometime in 2014, NFL great Brett Favre became a spokesman for several Micro Touch products such as Micro Touch Max and Micro Touch Switchblade. If you notice in the television commercial, he only says "Micro Touch" and does not specify the product. His endorsement appears in commercials for both Micro Touch products.
Micro Touch Switchblade vs Micro Touch Max
A valid question to raise is what the difference is between Micro Touch Switchblade and Micro Touch Max. Both are advertised as personal trimmers, and both have similar designs. The Switchblade, however, has two trimmers included, while the Max only has one. So it would probably be safe to say that Micro Touch Max is almost the same as Micro Touch Switchblade, but without the second trimmer. The Switchblade is also more expensive.
MicroTouch Switchblade Reviews
Have you tried MicroTouch Switchblade? Please give us your review in the comments below and give it a star rating above.
Originally published December 10, 2013
Modified December 9, 2014