Mighty Blaster Review: High Pressure Hose Nozzle?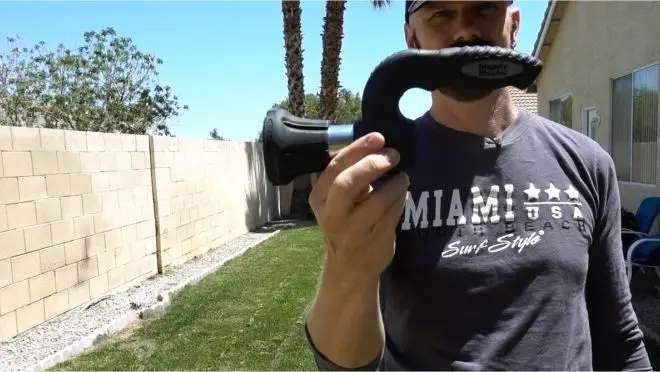 Mighty Blaster is a garden hose attachment with an adjustable water pressure nozzle. Does it work as advertised? Here is our Mighty Blaster review.
Sponsored Links
About Mighty Blaster
The Mighty Blaster Fireman's Nozzle is a spraying garden hose attachment that features an adjustable spigot and a comfort grip.
Claims & Features
Compatible with any garden hose
Vary water pressure from a fine mist to a blast
Comfortable handle
Manufactured from sturdy aluminum & stainless steel
Cost
The Target website has Mighty Blaster priced at $5.99. However, the average price seems to be vary between $11-$15 depending on location. It is available on Amazon, and at stores such as Walmart, Target, or Bed Bath & Beyond.
Mighty Blaster Review
When Mighty Blaster was first heavily advertised in 2015, it was touted as a "Fireman's Nozzle" for its ability to deliver a high-pressure stream of water. Reviews were ultimately lukewarm, but Mighty Blaster continued to advertise into 2016. By 2017, the Mighty Blaster website had gone offline, but the product could still be found in stores, and it became an add-on option for those wanting to buy the Hercules Hose online.
Because there has been a slight uptick in renewed interest, I thought it would be worth re-examining Mighty Blaster, and comparing it against a couple of other nozzles.
The first thing I noticed is that the design and packaging have changed slightly since 2015. There was originally an on/off switch on the bottom of the unit, which has since been removed. Perhaps the makers realized this was an unnecessary feature.
In my attempt to try to be as fair as possible, I put Mighty Blaster up against two other Nozzles: a $5 Gilmour model that I found at Target, and the nozzle included with the Metal Garden Hose. To be even more extensive, I tried all three nozzles on the three As Seen on TV hoses from 2017: Hercules Hose, Metal Garden Hose, and Pocket Hose Brass Bullet.
Sponsored Links
To use Mighty Blaster, you simply attach it to your hose and turn the knob in order to open up the water pressure. As you can see in the video below, Mighty Blaster didn't outperform the other two nozzles, and in fact performed behind them. The Metal Garden Hose nozzle shot a stream with the most distance, followed by the Gilmour, and then Mighty Blaster. Additionally, the Gilmour offers numerous settings to deliver a variety of spray patterns, which Mighty Blaster does not.
In the end, I'm glad to see the price of Mighty Blaster down below $10 at some retailers, but I still don't think it is a better product than the $5 Gilmour.
Alternatives
You can find the Gilmour Nozzle in the video below in stores or online for about $5-$6. This $7.49 model by Viking is a Best Seller in its category.
You may also want to peruse comments on Mighty Blaster over the past couple of years.
Video Review
Below is my full video review of Mighty Blaster.
Television Commercial
Although Mighty Blaster is not currently being marketed, you can still find older commercials on YouTube, such as the one shown below.
Your Mighty Blaster Reviews
What are your thoughts about Mighty Blaster? Drop a comment below and a star rating above to let us know what you think about it.