Mighty Snake is a cordless motorized drain snake that can quickly clear clogged pipes and drains. Does it really work? Here is my Mighty Snake review.
Sponsored Links
About Mighty Snake
Mighty Snake is a portable drain snake with a spinning coil head that removes clogs at the pull of a trigger. The official product website is mightysnake.com, which was registered in January 2017. The screenshot below shows how the product website looked in December 2017.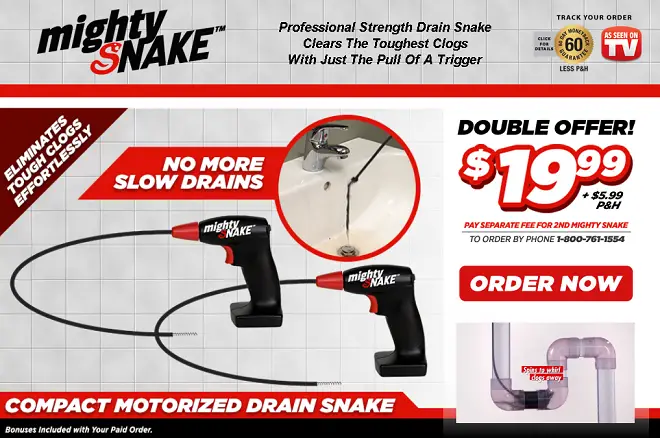 Claims & Features
Easily resolves slow drains and tough clogs
Removal of stoppers is not required
Compact and portable
Just insert the snake and pull the trigger (no plungers or chemicals)
Cleaning up is simple and quick (reverse action unravels the removed clog)
Will not harm pipes or sinks
Cost
Mighty Snake costs $19.99 + $5.99 P&H for a total of $25.98. There is an optional double offer for a separate fee of $9.99 which will increase the total to $35.97.
Sponsored Links
Mighty Snake Review
About six weeks ago I stated that I had never seen an As Seen on TV drain snake before – and now I have seen two in late 2017. That first item was Spin Plumber, a snake attachment that can be used with any power drill. Today I'm looking at Mighty Snake, which uses a similar design but is a self-contained unit.
Mighty Snake looks like a small power drill with a small drain snake as its attachment. To use Mighty Snake, you simply press the button as you would with a power drill, and insert the snake into your problem drain. The metal coil at the end will grab hair and debris, which can be easily removed. Because of its coil design, Mighty Snake will probably be best at removing hair, rather than buildup along the walls of the pipes.
Keep in mind that Mighty Snake will only reach clogs that are within a couple of feet from the opening. Clogs deeper than that will be out of reach. You'll also want to disengage the unit before pulling debris out of the drain, or you could end up wearing bits of grime.
I wouldn't expect Mighty Snake to be made of the highest quality materials, but because clogs are usually an infrequent problem, I would expect this to be sufficient to get the job done. Mighty Snake offers the typical As Seen on TV "double offer" in which you can add a second Mighty Snake for another $10. This extra fee is not refundable, should you decide not to keep it. I doubt most consumers would have enough use for something like this to warrant paying for a second unit.
Although the website for Mighty Snake was registered back in January 2017, I have only recently seen it advertising, which tells me this could be a test-marketed item. If that's the case, you may want to exercise a bit of patience during the shipping process. You may be interested in my video below discussing some ways that some companies test market As Seen on TV items.
Alternatives
This Cobra 25-Foot Power Snake also attaches to a power drill and is designed to clear drains of hair and other debris. If cost is a factor, you may want to take a look at this $7 drain auger that has pretty good ratings for its price range.
Your Mighty Snake Reviews
Have you used Mighty Snake or something like it? Leave a comment below and a star rating above to let us know your thoughts.