Multi Core Pillow is a modifiable memory foam pillow. Does it work as advertised? Here is our Multi Core Pillow review.
Sponsored Links
About Multi Core Pillow
Multi Core Pillow is an ergonomic memory foam pillow that contains 24 adjustable foam cylinders. The official website is multicorepillow.com, with a registration date of August 2017. The screen capture below was taken of the product website in September 2017.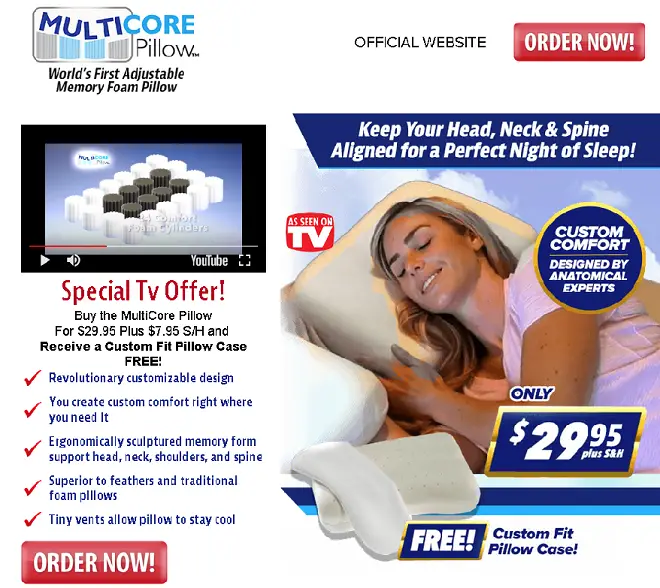 Claims & Features
Customize the pillow by positioning the 24 foam cylinders
Portable
Supports head, neck, shoulders, and spine with ergonomic memory foam
Preferable to feather or regular foam pillows
Pillow stays cool due to tiny vents
Cost
A Multi Core Pillow with 16 standard inserts, 8 firm inserts, and custom pillow case costs $29.95 + $7.95 P&H for a total of $37.90. There is also an option to purchase 8 soft inserts for $9.95 + $2.95 P&H which would raise the total to $50.80. The soft inserts can also be ordered separately for a total of $12.90.
Multi Core Pillow Review
The commercial begins, "We know what you're thinking: 'Oh no, not another pillow commercial!'" Then the advert continues with the familiar "As Seen on TV" announcer extolling the virtues of yet another pillow commercial.
MultiCore Pillow (also stylized as "Multi-Core" or "MultiCore") is a bit different than other highly-advertised pillows like MyPillow or Miracle Bamboo Pillow in that it doesn't claim to be the world's most comfortable pillow, but rather a highly customizable pillow that can suit anyone. To use MultiCore Pillow, you open up the pillow case to reveal 24 foam cylinders, or "cores" within a memory foam housing. Each pillow comes with 16 standard inserts and 8 firm inserts. Unfortunately, I prefer very soft pillows and the soft inserts are only available at an extra cost.
What's neat about MultiCore Pillow is that you can rearrange the inserts to suit your needs. The standard configuration is 16 standard inserts around the edges and 8 firm inserts in the center, but you can always reconfigure if that doesn't suit you. As impressive as that sounds, however, there are a few details to consider.
Sponsored Links
I've reviewed numerous pillows over the years, and spoken to consumers who have used the same pillows I've reviewed. The one thing I've learned is that everyone has a different opinion about what makes a perfect pillow. I prefer paper-thin, soft pillows, yet I know people who can't imagine anything other than a very thick, firm pillow. While the makers of MultiCore pillow seek to appease everyone, I'm just not sure it can please everyone, especially those who prefer the thinnest or softest pillows.
Just by looking at the advertising, you can tell this is a pretty thick and firm pillow out of the box. Even though you get 16 standard and 8 firm inserts, you have to use all of them in the pillow. So if you don't like a firm pillow, you'll still have to place those firm inserts somewhere. That is, unless you want to pay extra for the soft inserts. What if you wanted 24 soft inserts or 24 firm inserts? It seems like the flexibility bottlenecks in the number of inserts you receive.
This could be the perfect pillow if you were to receive 24 standard, 24 firm, and 24 soft inserts so you could truly customize it to your exact specifications. As it stands now, those who prefer firmer pillows are the most likely candidates to enjoy this product.
This appears to be a test marketed item, with its long-term viability hinging on online or television orders. The problem for me is that I don't recommend buying pillows sight-unseen. This becomes a sort of Catch 22, because if no one orders from the online or TV ads, it will never make it out of test marketing in order to appear in stores. Thus, someone has to be the guinea pig.
The best way to find a pillow that suits your needs is to try it out in person first, which is not yet an option for MultiCore Pillow.
Alternatives
Despite its unique "core" design, MultiCore Pillow is certainly not the first adjustable pillow. You may have seen the Pancake Pillow, which allows you to add or remove layers to suit your needs. Others, like this adjustable shredded memory foam pillow, allow you to add or remove foam to achieve your desired thickness.
Related Review
Below you can see my comparison of two As Seen on TV pillows: MyPillow and Miracle Bamboo Pillow.
Television Commercial
Your Multi Core Pillow Reviews
What are your thoughts about Multi Core Pillow? Drop a comment below and a star rating above to let us know what you think about it.