Multi-Cut is a 3-in-1 cutting tool that includes a cutter, wire cutter, and utility knife. Does it work as advertised? Here is our Multi-Cut review.
Sponsored Links
About Multi-Cut
Multi-Cut is a 3-in-1 tool that features a precision slicer, titanium coated wire cutter, and a retractable utility knife. The official website is buymulticut.com, with a registration date of August 2016. The screen capture below was taken of the product website in July 2017.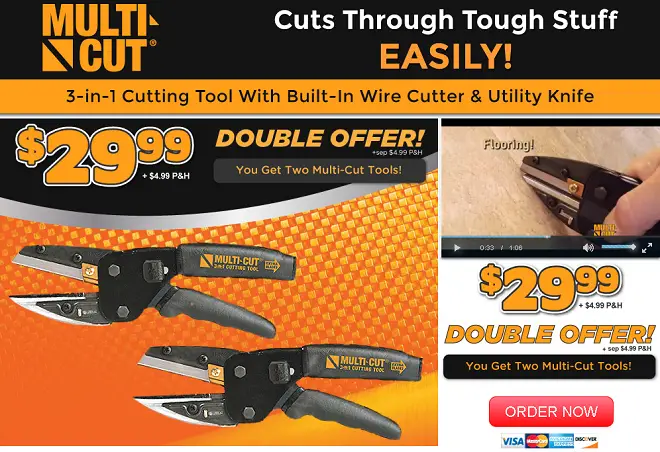 Claims & Features
Cuts without difficulty
Amazing cutting power from blade and an offset pivot point
Cuts through many materials (rope, wood, leather, rubber, etc.)
Retractable blade similar to a utility knife
Can be used like a box cutter on carpet, linoleum, cardboard, and drywall
Titanium coated wire cutter built in
Great for cutting wire (copper, aluminum, and steel)
Comes with a set of replacement blades
Ergonomic grip handle
Safety lock
Cost
When ordering Multi-Cut, there is a mandatory double offer that costs $29.99 + $4.99 for second unit + $4.99 P&H for a total of $39.97. You can also find Multi-Cut on Amazon for about $35.
Multi-Cut Review
The Multi-Cut 3-in-1 cutting tool is advertised as a way to easily cut through tough materials such as boxes, carpet, dry wall, rope, wire, and more. It is described as three tools in one, as it can be used as a slicer, wire cutter, and utility knife. Interestingly, it sports a design slightly reminiscent of the kitchen cutter called Clever Cutter, as that item also has a blade and a base. Thus, you place the item to be cut on this cutting board-like base, and squeeze the handle to engage the blade.
To use it as a knife, you slide a lever which moves the base back, exposing the sharp edge of the blade. You'll then lock the handle in place and operate the device like you would a standard utility knife. At the very back of the blade is the wire cutter, which operates like any standard wire cutting unit.
A set of five replacement blades is included with Multi-Cut. These are easy to replace by simply removing a couple of screws where the top blade resides and sliding the old blade out. The extra blades are stored in the handle, which is a nice feature because that is the type of thing I would typically lose.
Sponsored Links
Multi-Cut feels heavy-duty when you hold it in your hand, and the single cutting blade is held firmly in place. It is larger than I would have expected, yet the handle is easy to hold and operate.
Because there is only one cutting blade and a base, you can't really use Multi-Cut as you would scissors to cut very thin items. It should also be noted that Multi-Cut does not cut progressively like a pair of scissors that starts at the edge and cuts as it moves. When I tried to cut a belt, as they show in their instructions, I wasn't able to get it to cut at all.
I used Multi-Cut in a variety of ways in my tests, and found that it worked quite well for rigid, non-metal objects such as small tree branches, plastic, pencils, or a garden hose. The wire cutter still required some strength to cut through coaxial cable, but did work. There were some attempts I made that were unsuccessful, such as a palm tree branch, a wire clothes hanger, and a larger PVC pipe. To be fair, the PVC pipe shown in their marketing was much smaller than the one I tried.
Overall, Multi-Cut is a well-made, well-designed item that will be a welcomed addition to almost any garage. It may not work on everything you want to cut, but I'm confident you'll find enough uses for it to make it a worthy addition to your toolbox.
Alternatives
Multi-Cut is similar to other items on the market, like this Craftsman Handi Cut set that runs about $42. There are other Ronan Multi-Cut products on the market as well, which all sport a similar design to this one.
Video Review
Below you can see my complete review and demonstration of Multi-Cut.
Your Multi-Cut Reviews
What are your thoughts about Multi-Cut? Drop a comment below and a star rating above to let us know what you think about it.