Muncheez Review: Plush Pets That Store Your Stuff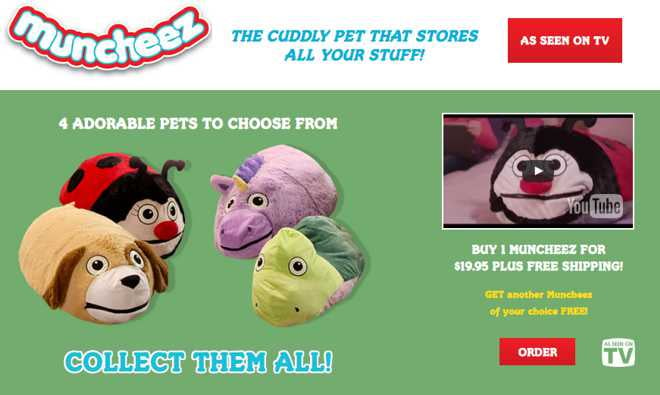 Muncheez are plush pets for kids that can be use to store items. Read our Muncheez review.
Sponsored Links
About Muncheez
Muncheez are plush character pets which can be used to store belongings. The official product website is buymuncheez.com, which was registered in November 2015. Below is a screen capture showing the official website as it appeared in August 2016.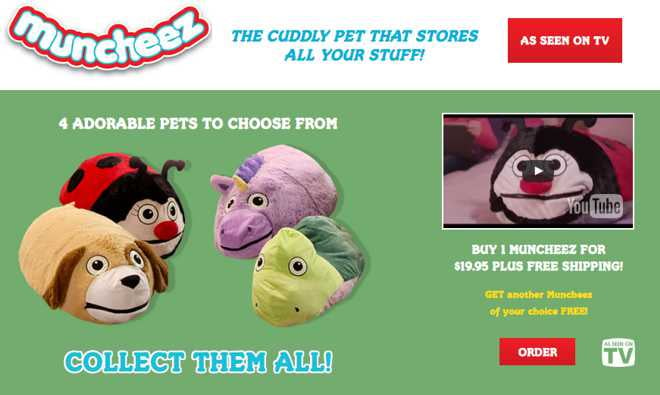 Claims & Features
4 character designs: Puppy, Lady Bug, Unicorn, and Turtle
Cuddly and soft
Can be used to store items
Machine washable
Can also be used for sitting, bouncing, or playing
Cost
Muncheez can be purchased from the official website for $19.95 for two pets, and the shipping is free.
As of this writing, we haven't seen Muncheez in stores.
Muncheez Review
Muncheez could best be described as character-shaped bags in which children can store their belongings. The television advertising points out that "cleaning your room has never been so fun" when you are stuffing items into your Muncheez pet.
Sponsored Links
A slightly confusing aspect of the advertising is that we are told that Muncheez could be used to sit, lie, and bounce on – even after being filled with items. The implication seems to be that it can be used in this manner if Muncheez are filled with other plush pets. You obviously wouldn't want your child bouncing on his or her Muncheez if it were full of sharp, breakable, or valuable items.
That small point of contention aside, this is a product we feel will fare well because a recent predecessor in this category (see below) had generally high marks from kids who used it. We're not sure why that product isn't available due to the positive consumer feedback we received.
We applaud the current television offer which gives you two pets and no shipping for either. That brings the cost per item to $10 each, which is actually quite a good deal.
If you're picking this up for a younger child, you may want to monitor what the child puts into it. We've heard stories of kids putting food into places like this, only to find ants or a foul smell emanating days later.
It may or may not lead to a more organized child, but overall we think kids will like Muncheez. This product is competitively priced enough (without shipping) to purchase now rather than waiting for them to arrive in stores, as we usually suggest with As Seen on TV products.
Alternatives
Muncheez are quite similar to a product which advertised on television several years ago called Tummy Stuffers. As Seen on TV aficionados will remember the advertising for that product which also featured a mom telling kids to clean up their rooms by using this plush animal which would "eat" whatever was placed into its mouth. That product is no longer available from the manufacturer, but a number of online vendors still sell them, at a wide variety of prices.
Television Commercial
Muncheez Reviews
What do you think of Muncheez? Give us your opinion in the comments below and leave a star rating above.