My Foldaway Mirror is a double sided vanity mirror with LED lights on both sides. Does it work as advertised? Here is our My Foldaway Mirror review.
Sponsored Links
About My Foldaway Mirror
My Foldaway Mirror is a portable vanity mirror that is bordered by battery powered LED lights. The official website is myfoldaway.com, with a registration date of March 2017. The screen capture below was taken of the product website in April 2017.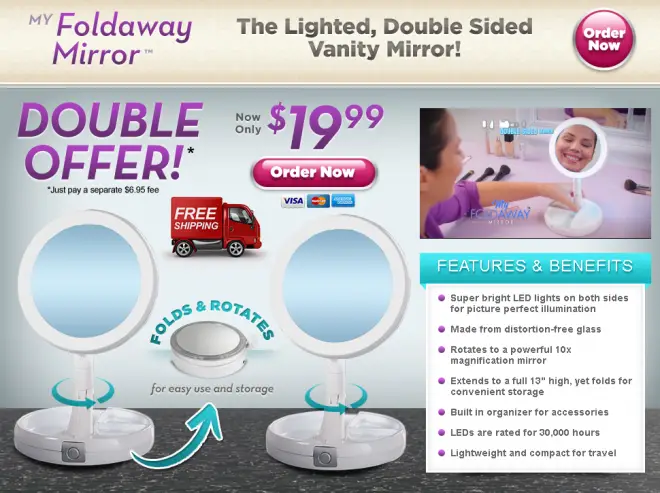 Claims & Features
Both sides of mirror are edged with LED lights
Provides distortion-free reflection
One side has 10X magnification
Height is 13″, but folds down for storage
Accessory organizer built in
30,000 hours of LED life
Compact design ideal for travel
Cost
My Foldaway Mirror costs $19.99. P&H and shipping is free. There is an optional double offer where a second mirror is added for a fee of $6.95 which would bring the total to $26.94. Each unit also comes with a cleaning cloth. I found My Foldaway Mirror at a local Bed Bath & Beyond for $19.99.
My Foldaway Mirror Review
If you've struggled to find the right vanity mirror, the makers of My Foldaway Mirror may have just the item for you. This folding vanity mirror is actually two mirrors and an accessory organizer.
Sponsored Links
To use My Foldaway Mirror, you simply extend the mirror from the base. You can then choose between two mirrors, a standard 1x mirror, and a 10x magnification mirror, which are accessed by swiveling the entire mirror 180 degrees. Both mirrors are illuminated with an LED light border.
When you are finished, My Foldaway Mirror will collapse back down into the base for easy storage and transportation. When the mirror is extended there are compartments where you can store small accessories such as hair ties or clips. I did find, however, that when there are items in the compartments, they don't stay in place if the closed mirror is moved or shaken.
The overall size of the extended unit is 13 inches, although the mirrors themselves are not particularly large. In the case of the magnification mirror, that's probably not necessarily an important point. I'm not sure that My Foldaway Mirror will replace a larger, more stationary, vanity mirror. I do think, however, that this is perhaps one of the best travel vanity mirrors you will find. It weighs more than I expected, so if weight or space is a factor in your luggage, that could be a small concern.
In my tests (below) with help from the 2-Cent Chicks, we found that the mirror didn't extend smoothly as shown in the commercial, but more like a ratchet motion. The overall materials feel somewhat cheap.
This unit requires 4 AA batteries, which aren't included. There seems to be an AC plug in the front of the unit, although there is no mention of an adapter in the instructions. If you have realistic expectations, you may like this device.
My Foldaway Mirror rolled out to stores in summer 2017.
Alternatives
My Foldaway Mirror is quite similar to a popular item on Amazon, the Floxite Lighted Folding Vanity and Travel Mirror. The product costs about $45 and has a 4 star rating among hundreds of reviews. If you're looking for a less expensive option, you may want to look at the $20 Kedsum folding makeup mirror.
Video Review
Below is my full review of My Foldaway Mirror, with help from the 2-Cent Chicks.
Your My Foldaway Mirror Reviews
What are your thoughts about My Foldaway Mirror? Drop a comment below and a star rating above to let us know what you think about it.