My Secret Safe is a portable safe that is disguised as a book. Does it work as advertised? Here is our My Secret Safe review.
Sponsored Links
About My Secret Safe
My Secret Safe is small and durable safe that looks like a book. The official website is trymysecretsafe.com, with a registration date of May 2017. The screen capture below was taken of the product website in July 2017.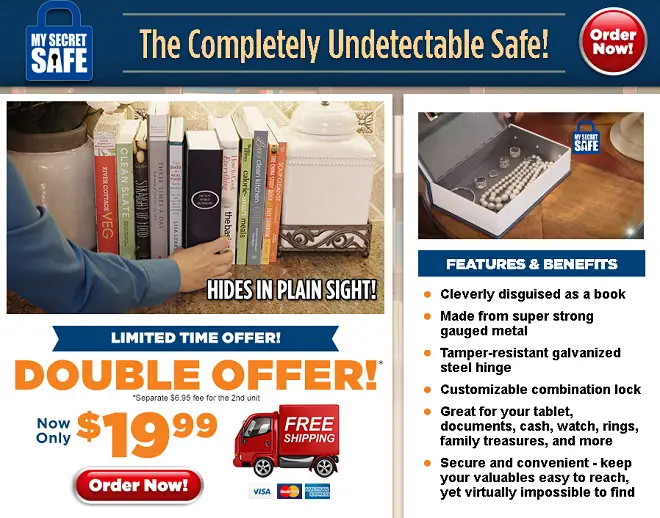 Claims & Features
Safe is disguised as a book
Manufactured from sturdy gauged metal
Hinge is galvanized steel that is tamper-resistant
Contains customized combination lock
Ideal for documents, money, jewelry, etc.
User-friendly and secure
Cost
My Secret Safe costs $19.99. There is an optional double offers for two safes that costs $26.94. Shipping is free on both offers. At the time of this writing, My Secret Safe is not available in stores.
Sponsored Links
My Secret Safe Review
My Secret Safe is, simply put, a small safe disguised as a common dictionary. While it may look like an ordinary book among your collection, it is actually a strong metal safe that houses your valuables. To use My Secret Safe, you simply dial in your combination (which can be customized), open it, and place your valuables inside. Then you merely place it alongside your other books and it will be difficult to discern among the rest of your collection.
There are different schools of thought about safes like this. If someone enters your home and looks for a traditional safe, they may not notice this item among a collection of books. Many thieves, however, are perfectly aware of this type of hiding place, and will often ransack a bookshelf if they are seeking out valuables. Because of its compact size, it would be easy for a thief to simply take a book safe and open it later.
That said, if you aren't worried about professional criminals (such as guests, babysitter, maintenance man, etc.), this could be an ideal place to hide valuables within easy reach. If you have a bookshelf or area in which a large numbers of books reside, this will blend in nicely and help your safe go unnoticed. That's not to say that it is completely realistic looking, but it should blend in enough to remain discreet among your other books. The more books you have, the less visible this safe will be.
Alternatives
The idea of a safe disguised as a book is certainly not new, as these have existed for decades, if not longer. This Ohuhu model looks remarkably similar to My Secret Safe and sells for about $12. Perhaps a more convincing book safe is something like this $27 product which uses actual sheets of paper, giving it a more realistic look.
Your My Secret Safe Reviews
What are your thoughts about My Secret Safe? Drop a comment below and a star rating above to let us know what you think about it.