Nano Towels are eco-friendly absorbent cloths made from Nanolon Fiber. Do they really work? Here is my Nano Towels review.
Sponsored Links
About Nano Towels
Nano Towels are absorbent cloths made from Nanolon Fibers that can be used as an eco-friendly replacement for paper towels. The official product website is nanotowels.org, which was registered in August 2016. The screenshot below shows how the product website looked in January 2018.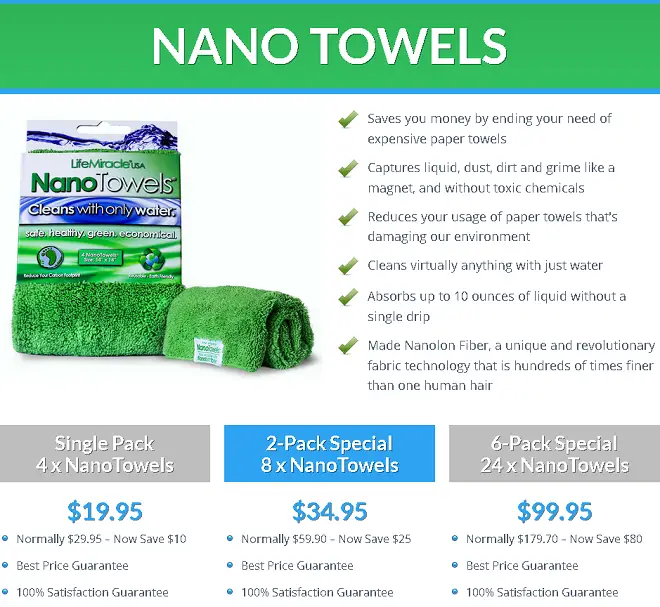 Claims & Features
Conserve cash by replacing paper towels
Decrease environmental pollution by avoiding paper-based products
Capable of absorbing up to 10 oz of fluid without dripping
Manufactured from Nanolon Fiber (100 times finer than a human hair)
Cost
A single pack of 4 Nano Towels costs $19.95 + $6.95 shipping for a total of $26.90. Two packs (8 towels) cost $34.95 + $6.95 shipping for a total of $41.90. A six-pack special (24 towels) costs $99.95 + $9.95 shipping for a total of $109.90. At the time of this writing, Nano Towels are not available in stores.
Nano Towels Review
If the idea of an eco-friendly, reusable cloth that can clean almost any surface using only water sounds appealing to you, Nano Towels may be an item worth considering. This "Nanolon" fiber cloth is claimed to be a "breakthrough" with its ability to clean and dry almost any surface without the use of toxic chemicals. Once Nano Towels have become soiled, you simply wash and re-use them. The makers point out that it is not a standard microfiber cloth, but a "next generation fiber" that will deliver superior results.
There are different sizes and quantities of Nano Towels, but the most common is the 4-pack, and many consumers like to use them in pairs: one wet and one dry. To use Nano Towels, you simply wet one towel then wipe your surface. Then you take a dry Nano Towel and dry the surface. If water doesn't cut it, you can use a cleaner to get the job done. For smaller spills, you can fold in half and clean with one side and dry with the other.
Sponsored Links
I wouldn't say that Nano Towels can completely replace paper towels as there are some cleanup jobs too nasty to even put in your washing machine, such as pet "accidents." Those are the kinds of jobs better suited for a disposable rag or paper towel. Other than those instances, however, I think Nano Towels are well-suited to most clean-up jobs.
Nano Towels are excellent for use on a stove top, stainless steel appliances, mirrors, granite, shower doors, and more. The fact that it has a nearly 5-star rating on Amazon among almost 2,000 reviews is a telling sign. It's not uncommon to see a new product's rating being padded by fake reviews from those selling it, but when you start getting into thousands of consumer ratings, it is virtually impossible to fake a product rating. In other words, consumers have weighed in on Nano Towels, and the consensus is very positive.
That said, I have noticed a number of websites and YouTube channels "reviewing" Nano Towels, with a Clickbank link at the bottom. Clickbank is an affiliate marketing website for which I do not have a high opinion. That is a personal conclusion I came to years ago when I dabbled in affiliate marketing myself and was not comfortable with the Clickbank model. If you find yourself on a website or YouTube video that reviews Nano Towels and ends with a Clickbank affiliate link, keep in mind that these are probably people who stand to profit from a positive review because they are selling it in addition to reviewing it. I tend to shy away from affiliate marketers who disguise their sales pitch in the form of a review.
I wouldn't say that NanoTowels can be used with only water for all cleanup jobs, like soap scum or grease, but it is excellent for wiping up liquids, cleaning glass, and picking up dust.
Despite a number of affiliate marketers pushing Nano Towels with dubious reviews, the product stands on its own as a worthy investment for those who want to move to a more eco-friendly means for cleaning around the home.
Be sure to watch my full review of NanoTowels below.
Alternatives
If you're still on the fence about Nano Towels, you may want to take a look at the Norwex Antibacterial Microfiber Cloths, which are said to offer many of the same benefits as Nano Towels. VibraWipe is another brand that sports a rating near 5 stars and costs $17 for a pack of 8.
Your Nano Towels Reviews
Have you used Nano Towels or something like it? Leave a comment below and a star rating above to let us know your thoughts.