Nerve Pain Away is a natural & fast acting pain reliever for diabetic nerve pain. Does it work as advertised? Here is our Nerve Pain Away review.
Sponsored Links
About Nerve Pain Away
Nerve Pain Away is a diabetic nerve pain reliever that is sprayed on the hands or feet to relieve tingling, burning, and numbness. The official website is nervepainaway.com, with a registration date of March 2017. The screen capture below was taken of the product website in June 2017.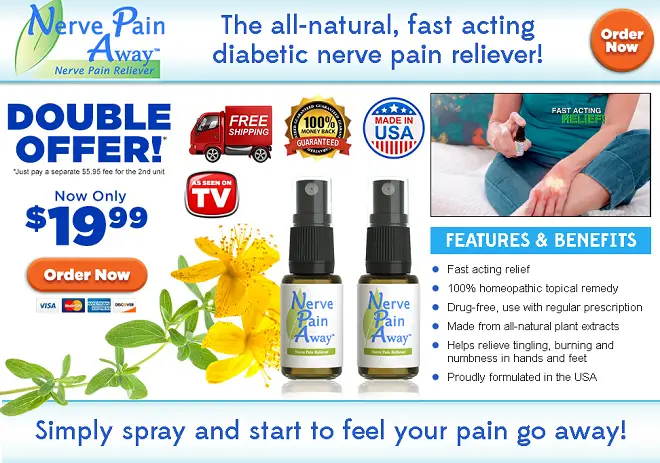 Claims & Features
Quick relief for diabetic nerve pain
Topical relief that is 100% homeopathic
Drug free (safely use alongside regular prescriptions)
Ingredients from natural plant extracts (active ingredient is Hypericum perforatum)
Eases tingling, burning, and numbness in extremities
Made in the USA
Cost
There is a mandatory double offer when ordering Nerve Pain Away. The cost is $19.99 for the first bottle and $5.95 for the second bottle for a total of $25.94. Each bottle contains approximately 60 spray applications. There is also a deluxe option that features two bottles that are 50% larger than the regular version for $45.94. Shipping is free on all orders. At the time of this writing, Never Pain Away is not available in stores.
Sponsored Links
Nerve Pain Away Review
Those who suffer from diabetes are all too familiar with pain, tingling, and burning of the hands and feet, and the makers of Nerve Pain Away have a product designed to alleviate those symptoms. In addition to those suffering with diabetes, it may also help sufferers of sciatica and other conditions related to nerve pain. To use Nerve Pain Away, you simply spray it on the affected area and massage into the skin. Relief should be nearly instant and lasts for hours.
A discussion about whether or not Nerve Pain Away works or not will revolves around its primary ingredient, Hypericum perforatum, commonly known as St. John's wort. This is a common natural remedy for numerous ailments, including depression and menopause symptoms. For many of its uses, it is taken as a pill, but as a treatment for nerve pain, it is often used as a topical spray. WebMD lists St. John's wort as having "insufficient evidence" as a treatment for nerve pain, while the Mayo Clinic gives it a "C" grade for nerve pain, noting, "Early study shows that St. John's wort may help nerve pain. Further research is needed to confirm these results." Livestrong notes that no studies have been performed on Hypericum as a topical treatment for nerve pain, but one study that used it internally concluded that it was "statistically insignificant."
With such a lack of evidence, does that mean Nerve Pain Away doesn't work? If you take a look at the many product reviews for various Hypericum perforatum products, you'll find a mostly positive consensus across the board. Take a look at this spray, for example, which sports all 5-star customer reviews.
In the end, you won't find any studies to back claims that Nerve Pain Away works, but you will find numerous consumer reviews for the ingredient in this product that claim it does in fact relieve nerve pain. Products like Nerve pain Away are safe to use, and probably worth trying if you have not had luck with other treatments.
Keep in mind that even if Nerve Pain Away works for you, it's not actually treating any underlying cause. Also remember that there are numerous products on the market which contain this common ingredient, many of which are readily available locally or for quick delivery via Amazon.
Your Nerve Pain Away Reviews
What are your thoughts about Nerve Pain Away? Drop a comment below and a star rating above to let us know what you think about it.