Nicer Dicer Fusion is a food preparation station.
Sponsored Links
About Nicer Dicer Fusion
Nicer Dicer Fusion is a kitchen tool that is said to replace several other kitchen items, such as blenders and choppers.
Note: The official website is currently offline, although it is registered through 2018. You can still find Nicer Dicer online.
The product website is nicerdicerfusion.com, which was registered in February 2014. The screen capture below shows the official website in February 2016. It is offline as of July 2016.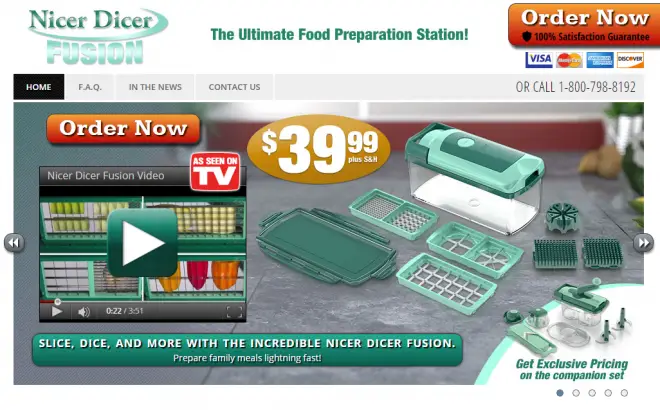 What They Claim
Prepare meals incredibly fast
Slice, dice, julienne, shred, cube, quarter, grate, mix and puree
Gives perfect slices every time
Slice one or two foods at the same time
Dishwasher safe
Replaces knives, chopping boards, and food processors
Interchangeable blades
Nicer Dicer Fusion Cost
Regular Set: $39.99 + $9.99 S&H – can opt out of 2 bonus containers for additional $7.99
Sponsored Links
Deluxe Companion Set: $39.99 + $9.99 S&H + $29.99 fee – can opt out of bonus containers for additional $7.99
Note: Although the official website is offline as of July 2016, you can still find Nicer Dicer online.
Reviews
Nicer Dicer Fusion is one of several products under the "Nicer Dicer" umbrella. This particular product is said to replace a number of kitchen items and allows you to chop fruits and veggies quickly.
The device works by a two-layered lid. The first layer includes a set of blades, while the top layer is used to push food through the blades. A container below catches all of the food which is passed through the blades. It is a rather simple design which can be found in a number of competing products.
Nicer Dicer Fusion blades feel somewhat cheaply made, although they do seem sharp enough to handle most jobs. Some items will be easier to slice than others. Very hard or very soft items (apples or tomatoes, respectively) prove to be more problematic than those in the middle. Cutting a tomato in half and placing it face-down will increase the effectiveness of the blades.
The fusion model now includes a spring-loaded ("auto-lift") lid, which will automatically raise to its upright position. This can be enabled or disabled. There is a button on the lid which pushes food remnants out, making clean-up easier.
The current commercial for Nicer Dicer claims that the brand has over 20 million customers around the world, which likely adds all of the sales from all previous incarnations of the Nicer Dicer product line. Reviews for that product range from high accolades, to those who have said it was cheaply made. Vidalia Chop Wizard (review) sports a very similar design and can be found online and in stores. It has similar customer ratings.
The Nicer Dicer Plus offers a similar design and can be found on Amazon for about $17. It has around a 3-star customer rating
There are two Nicer Dicer Fusion packages available from the official website: The Nicer Dicer Fusion, and the Deluxe Companion Set which adds a number of additional lids and blades.
Your Nicer Dicer Fusion Reviews
Have you used Nicer Dicer Fusion? Give us your review by leaving a comment below and a star rating above.