Night Angel allows you to transform any outlet into a nightlight in seconds. Does it work? Read our Night Angel review.
Sponsored Links:
About Night Angel
Night Angel is an outlet cover that provides a nightlight while leaving your existing outlets free. The official product website is buynightangel.com, with a registration date of August 2016. Below are a screen shots of the official website taken in November 2016 and again in February 2017. Note slight differences, including price.
Claims & Features
Installs quickly
3 LED lights
No wires or batteries
Frees both outlets
Fits any standard outlet
Available in Duplex or Decor styles
Lasts over 100,000 hours
Light sensor turns lights on when it's dark
Cost
The original cost of Night Angel was $12.99 + $6.99 shipping. A second unit was included for another $6.99, bringing your total to $26.97 for two units ($13.49 each).
Sponsored Links:
The new pricing is three lights for $19.99 with free shipping, but a $6.99 "fee" for the triple offer and a $1 "web service fee," bringing your total to $27.98 for three units ($9.33 each).
Night Angel began appearing in stores in February 2017 for about $10 for one unit.
Night Angel Review
Night Angel is a wall outlet cover that provides an automatic night light while leaving both of your outlets free. It is powered by copper prongs which draw power from inside the outlet.  A light sensor switches the unit on when it is dark, and turns it off when it is light. These low-energy lights should only cost cents per year to operate. Two design options include duplex or decor.
While Night Angel could be described as a knockoff of the popular SnapPower Guidelights (see below), they do provide a less expensive alternative that performs the same basic function as that product.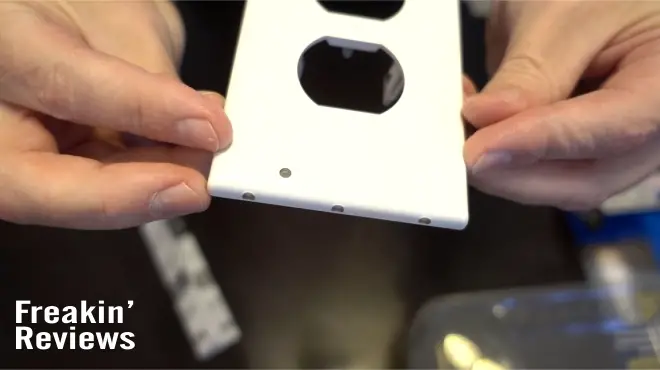 Consumer demand for SnapPower has been high, and it is not a surprise to see an As Seen on TV alternative hit the airwaves. The ability to light pathways without consuming an outlet is an attractive feature.
Although Night Angel is slightly less expensive than SnapPower, it could still be described as expensive based on the materials and in comparison to traditional night lights. That is perhaps why the product disappeared briefly, and then returned with updating pricing that lowered the cost per unit by about 30%.
Now that Night Angel has become available in stores, it is a compelling alternative to SnapPower, especially without shipping costs and delays. We think that those who purchase Night Angel will be generally pleased with the product.
Alternatives
You've probably seen SnapPower advertising online in recent months. Read our review of that item here. You can also see consumer reviews for that item here, where it holds a 4.3 star rating among over 1,000 customer reviews. A SnapPower Guidelight costs about $15.
Television Commercial
Your Night Angel Reviews
Have you used Night Angel? Give us your thoughts by leaving a comment below and a star rating above.
Updated February 2017 to reflect updated pricing and store availability.