No No Pro is a product advertised to provide laser hair removal for a much lower cost than a professional skin care center.
Sponsored Links:

About NoNo Pro

No No Pro (usually written "no!no!") is the second offering in the no!no! line of hair removal products. The original NoNo hair removal product has been around for several years.
Originally, two models of NoNo Pro were advertised: the Pro3 and the Pro5. The Pro3 has three treatment levels, while the Pro5 has 5 treatment levels.
It appears that as of late 2014, the Pro5 has been largely removed from the website and the Pro3 is only available.
Reviews for the NoNo Pro are mostly mixed, with our readers giving it about 3 out of 5 stars.
Official Website
nonopro.com
Registered on February 7, 2013
Contact
Claims/Features
Two models: Pro 3 and Pro 5 (although the Pro3 appears to be only offered as of December 2014)
"Go weeks without shaving"
"More effective than before"
Removes hair by running over the skin
Available in three colors: Pink, Turquoise, and Chrome
Blue or red light indicates correct usage of product
Thermodynamic wire transmits heat to the hair
60 day guarantee
Cost
No No Pro 3 costs three payments of $96.65 plus $14.95 shipping = $304.90
NoNo Pro 5 (when it was available) was three payments of $103.31 plus $14.95 shipping = $324.90
Screen Shot
Below is a screen shot of the official website, taken in October 2013.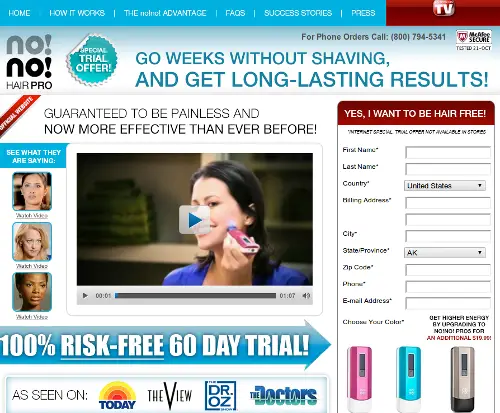 Television Commercial
Below is a television commercial for No No Pro:
no!no Pro Reviews
Have you tried no!no! Pro? Please give us your review in the comments below.
First Published: October 2013
Modified: December 27, 2014
Sponsored Links: