Ooze Baff is a powdered formula that turns into a slimy ooze when added to water. Does it work as advertised? Here is our Ooze Baff review.
Sponsored Links:
About Ooze Baff
Ooze Baff is a green colored powder that turns into a gooey slime substance when mixed with water. The official website is buybaff.com, with a registration date of May 2017. The screen capture below was taken of the product website in July 2017.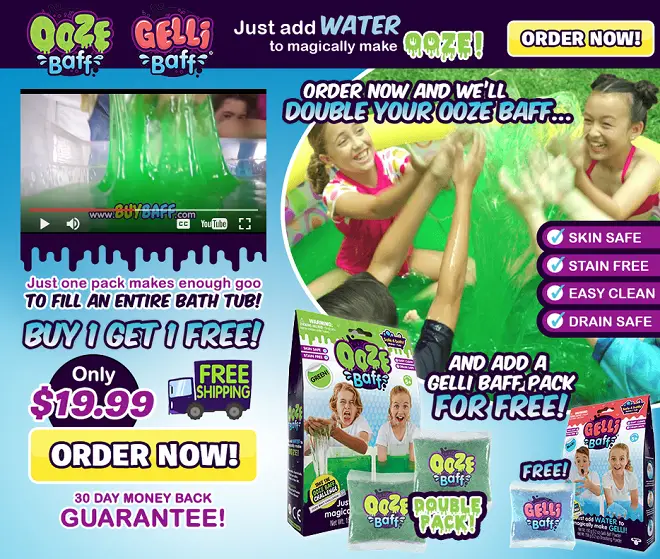 Claims & Features
Safe for kids and skin (no chemicals)
Will not stain
Easy to clean up
Washes down the drain without clogging
30 day money back guarantee
Cost
Two packages of green Ooze Baff costs $19.99. Shipping is free. Each order comes with free package of blue Gelli Baff.
Ooze Baff Review
If you recall Gelli Baff, which advertised a couple of years ago, then you will probably be mostly familiar with Ooze Baff. Ooze Baff is a packet of material that can be poured into water, turning it into a green slime that is safe to play in, and doesn't stain.
Sponsored Links:
To use Ooze Baff, you simply pour one of the packages into your bath water (or a small swimming pool) and it quickly turns the water into a green slimy ooze. Kids can get in the ooze without worry that they will be immersed in a sticky mess that is difficult to clean. When I first tested out Gelli Baff a couple of years ago, my skepticism was quickly diminished when that product turned bath water into a blue slush. Then, just as easily, it melts away into the drain after being exposed to water.
Texture-wise, it is as gooey and slimy as you would expect. There is a softness to it that makes it almost pleasant to touch, however. It does take a little time for the goo to form, and some consumers opt to put both packages in the same water to make it extra thick and gooey. The best way to ensure an even slimy mess is to sprinkle the pack slowly over the entire area. Otherwise, you could end up with an uneven gooey mess, which isn't quite as fun.
One potential drawback is that Ooze Baff is slippery and you'll need to make sure everyone is extra careful not to fall. Picking up little ones from the tub is also problematic because they will be so slippery. This applies to outdoors or in the bathroom.
You'll probably find that kids need to take an actual bath after using Ooze Baff because they will be pretty slippery.
The cost is probably the biggest "con" with Ooze Baff, because you only get a couple of uses before your packs are gone. I would probably use this for a summer get-together or party with a kiddie pool, rather than an ordinary night in the tub. It's fun while it lasts, but it's expensive.
Alternatives
You can get several "Baff" branded items on Amazon, which means faster and cheaper shipping in most cases. You can find the similar Slime Baff for about $10 for two packages. There is also the original Gelli Baff, which turns your water into slush.
Television Commercial
Your Ooze Baff Reviews
What are your thoughts about Ooze Baff? Drop a comment below and a star rating above to let us know what you think about it.