Owl Alert is a device that repels animals and birds using motion, sound, and light. Does it work? Read our Owl Alert review.
Sponsored Links
About Owl Alert
Owl Alert is a three-in-one device that repels unwanted animals and birds. The official website is buyowlalert.com, which was registered in October 2016. The screen shot below was taken of the product website in December 2016.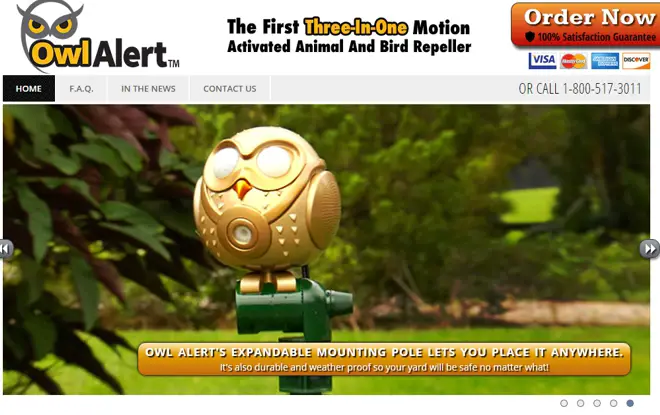 Claims & Features
Three-in-one animal and bird repeller
Expandable mounting pole
Uses sight, sound, and light to repel unwanted animals
Rotates 180 degrees
Uses ultra-sonic sound undetecable by humans
40-foot range
Weather proof
No traps or chemicals
Cost
You can get Owl Alert for $19.99 + $7.99 shipping. There is an option to add a second unit for another $7.99 fee. This brings your total to $27.98 for one, or $35.97 for two. We haven't seen this item in stores as of this writing.
Owl Alert Review
Owl Alert could best be described as a 21st century scarecrow for home use. It offers several different ways to fend off pests from your yard, including light, motion, and sound.
Sponsored Links
This isn't the first device that has been marketed as a way to repel pests, although it is certainly the first As Seen on TV product of its kind that we have seen. And, while the idea of an angry-looking gold owl perched in your yard may border on ridiculous, the fact that it offers three different ways to fend off unwanted animals cannot be overlooked.
Owl Alert is motion-activated, so whenever it is triggered – either by an unwanted animal, your pet, or yourself – it will begin rotating, shining laser beams, and emitting ultrasonic sounds.
This device is ideal for areas where you don't want animals to freely roam, including your own pets. There will be some pets that get accustomed to the electronic owl and simply ignore it, but this will vary from pet to pet. For the occasional unwanted visitor, however, it should do the job quite well.
Based on its website registration date, it appears that Owl Alert is a new item. We've found that newer As Seen on TV items tend to ship more slowly than their more established counterparts. Although we can't say for sure that will be the case with Owl Alert, it is something to keep in mind when ordering.
Overall, we think Owl Alert will work about as advertised. It may not be a 100% solution, but it should at least alleviate problems with unwanted pests. And a rotating, laser-firing gold owl is just pretty cool.
Alternatives
There are perhaps a surprising number of decoy owl scarecrows available for purchase. This two pack, for example, costs about $18 and sports a solid 4.5 star rating among over a hundred reviews. To its credit, however, Owl Alert does offer a rather unique moving design and robust set of features not found in less expensive competitors.
Your Owl Alert Reviews
If you've used Owl Alert, give us your thoughts by leaving a comment below and a star rating above.