Paint Runner Pro is a paint system that is advertised as a way to make painting easier and faster. Does it actually work? Read our Paint Runner Pro review.
Sponsored Links
About Paint Runner Pro
Paint Runner Pro is a self-contained, non-drip paint roller system. The official product website is paintrunner.com, which was registered back in April 2000. The screen shot below shows how the product website looked in February 2017.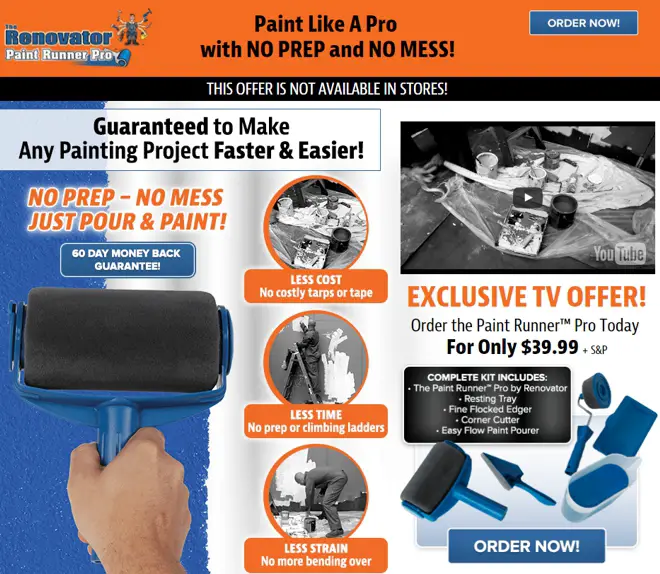 Claims & Features
Perfect distribution every time
Easy to learn and use
Paint with just one coat
No drips or splatters
Works on any surface
No prep: Just pour and paint
Cost
You can get Paint Runner Pro for $39.99 + $7.95 P&H for a total of $47.94.
Paint Runner Pro Review
Paint Runner Pro allows you to skip the paint tray by containing paint right inside the paint roller. This allows you to continuously paint, with no dripping, and no stopping to put more paint on your roller. Because paint is delivered to the roller as you paint, you can press harder or lighter in order to apply more or less paint.
To use Paint Runner Pro, you merely open the roller's end cap and pour in your desired paint. You can then roll it as you would a standard roller, but there is no need to go back and forth to the tray to re-apply paint, as it is already supplied within the device.
Sponsored Links
The handle is compatible with a standard broom handle, allowing you to use the roller on ceilings or hard to reach places. Older models used to include a handle, but now they simply tell you to "use any old broom handle."
Paint Runner has been around for years, but it isn't clear what the current "Pro" version offers over previous models. There doesn't seem to be any discernible improvement of the roller, but perhaps the "pro" designation is meant to indicate the extras included with the current TV offer.
Consumer feedback of the various Paint Runner offerings over the years has been mixed to positive. A slight majority of users praise the product for cutting time off of their painting tasks, while reducing the amount of paint spills during the process.
Those who have been critical of Paint Runner have said that the roller is much heavier than a standard roller when it is filled with paint. Filling the roller has also proven problematic for some consumers, although the Pro model now includes an "Easy Flow Paint Pourer" designed to alleviate that concern.
Thickness of the paint itself may affect performance of Paint Runner Pro. Thinner paint will generally flow through the device more easily than thicker paint. The "one coat" types of paints, for example, probably won't fare as well with Paint Runner.
Overall, Paint Runner Pro is an innovative product that saves most people time and frustration when painting. It's not for everyone, but a majority of people who have used it give it high marks.
You may be interested in perusing a small number of consumer reviews on Amazon to see just how mixed the reaction has been to Paint Runner. You can also find discussions of Paint Runner online dating back a decade.
Alternatives
If the idea of a paint roller that holds paint is appealing to you, it may be of interest that HomeRight produces an entire line of such products, such as the EZ-Twist Paint Roller.
Television Commercial
Your Paint Runner Pro Reviews
Have you used Paint Runner Pro? Let us know what you think by leaving a comment below and a star rating above.