Paint-Sation is a set of water-based paints that come in special containers that prevent spills. Does it work as advertised? Here is our Paint-Sation review.
Sponsored Links
About Paint-Sation
Paint-Sation are water-based paints for kids that are stored in unique containers that contain thousands of tiny bristles. These bristles hold the paint like a paint brush and prevent spilling. The official website is paint-sation.com, with a registration date of November 2016. The screen capture below was taken of the product website in July 2017.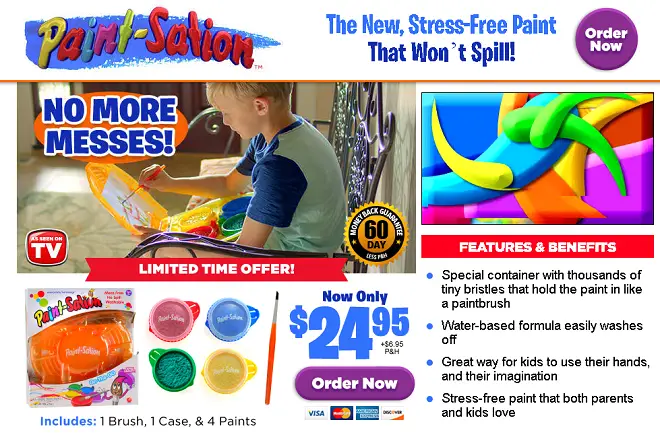 Claims & Features
Paint containers are filled with thousands of tiny bristles that hold the paint and prevent spills
Water-based paint is easy to clean
Stimulates imagination and hand-eye coordination
Fun and stress-free for parents and children
Cost
Paint-Sation costs $24.95 + $6.95 P&H for a total of $31.90. Includes a brush, a case, and four different colored paints (red, blue, green, and yellow). At the time of this writing, Paint-Sation is not available in stores.
Sponsored Links
Paint-Sation Review
Paint-Sation is a water color paint set for kids that offers spill-proof containers. It is a four-color set with green, red, blue, and yellow paint that is stored in special containers that prevent spillage. This is achieved by bristles which hold the paint in place, even when held upside down. Also included in the set is a single paint brush and a plastic carry case.
On the good side of it, any spill-proof paint when it comes to kids is a good thing. These water-based colors should clean up off of most surfaces and fabric. It has been my experience that water colors marketed as stain-free do tend to wash out of clothing as advertised. The only combination I'd be weary of is red paint on a white material like a t-shirt or very light carpet. Otherwise, I wouldn't worry about it staining. I also like the fact that it is a self-contained unit, where kids can use the open lid as a place to hold their artwork as they paint.
One potential "con" is the amount of paint for what you pay seems quite small. We're talking about $30 for 4 small water color paints. I don't know if other paints can be used in the container once the color is exhausted, as not all water colors have the same texture or consistency. It probably would have been nice for them to include four brushes, although that's a minor point.
Overall, I like Paint-Sation, despite its high price. I think those who purchase it will enjoy it – while it lasts.
Alternatives
If the cost of Paint-Sation is a concern, you could get some inexpensive spill-proof paint cups, which fun about $8. There's also a product by Discovery Kids called "No-Spill Paint Pot & Brush Set" which is another inexpensive option.
Your Paint-Sation Reviews
What are your thoughts about Paint-Sation? Drop a comment below and a star rating above to let us know what you think about it.