Panna is an online cooking magazine which offers unique recipes and videos by acclaimed chefs. Read our Panna review.
Sponsored Links
About Panna
Panna is a bimonthly video cooking magazine which features videos from acclaimed chefs. The official product website is pannacooking.com, which was registered in March 2012. The screen capture below shows the official website as it appeared in July 2016.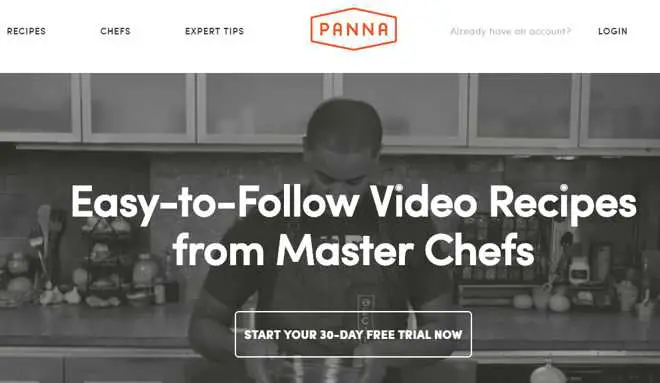 Claims & Features
Master new cooking techniques
Listen to chef's stories
300+ cooking videos
Access from all of your devices
Cost
Panna offers a 30-day trial, which converts to a yearly subscription of $19.99, which is automatically renewed. Your subscription allows you to access Panna via your iOS device or desktop.
Panna Review
Panna is a bimonthly digital cooking magazine which features exclusive videos from highly acclaimed chefs. You can watch food and drink recipes, along with general instructional videos.
Panna can be accessed from a desktop browser or a free iOS app. At first you'll be enrolled in their 30-day trial, which means you'll have to fork over your credit card even if you aren't sure you'll want to use the service beyond 30 days. As of this writing, there is no Android app. After you've signed up, you can access your Panna account from any supported devices.
Once you've signed up and can access to the full site, you'll see recipes and other videos such as "Kitchen Hacks" which help you perform more efficiently in the kitchen. Examples of these hacks include how to easily separate eggs, tricks for cutting onions, and how to clarify butter.
The meat of the site, however, is in the ability to browse by recipes, individual chefs, or types of meal. Once you've found a recipe of interest, you can watch a chef prepare it while providing step-by-step instructions.
Sponsored Links
The video player gives you the opportunity to browse areas of the video by section, so you can skip to a certain step if needed. Written instructions and ingredients are also included, along with Imperial or Metric measurements.
One of the more useful features which may go unnoticed by some users is the "Filter by" option. This icon which looks like three lines in the form of a triangle allows you to filter recipes by season, cuisine, main ingredient, meal, chef, or collections.
Panna doesn't feel as as much as a bimonthly digital magazine as it does a slick video recipe website. There are, of course, a number of well-written and useful articles, although you may have to search for the "Articles" link to find them.
Each recipe includes basic information such as how many it will serve, the active and total time it takes, and the difficulty level. The videos are professionally-produced, and the recipe page has all of the information you need to duplicate what is shown in the video. You can watch the video in a single viewing, or you can view individual steps as needed.
Panna's recipes are of the highest quality, and you'll probably see numerous dishes you've never heard of before. Thus, rather than running across the same old generic recipes found on other recipe sites, what you'll find at Panna is largely unique, and demonstrated in detail by world-class chefs.
If you love to cook and experiment with new recipes, you'll love Panna. Some of the recipes can get pretty elaborate, (Steamed Filet of Fluke with Hijiki, anyone?), and preparation times can run into several hours for the more demanding dishes. If you're looking for easy meals to feed your kids, Panna may not have enough to offer you.
Although there are several filters you can use to sort recipes, we felt that the inability to sort by difficulty and preparation time were glaring omissions. Currently, you can only apply one filter at a time, but the ability to apply multiple filters ("Dinner" and "American" for example), would also be a beneficial addition.
The seemingly over-emphasis on the free trial is unfortunate. It's almost impossible to find the price on the site without handing them your email address for the free trial. Even existing users of the iOS app have to go through a free trial pitch in order to log in.
Despite minor complaints about the filters and free trial, we think Panna is a slick and well-designed website featuring a large number of excellent recipes with instructional videos from highly acclaimed chefs. The bulk of the recipes seem geared toward lovers of the culinary arts, and less for quick and easy meals.
If you love to cook and want to expand your palate, Panna is a phenomenal choice. If you aren't looking to bring out your inner chef – and simply want quick and easy meal recipes – you may be better served elsewhere.
Television Commercial
Your Panna Cooking Reviews
If you've used Panna Cooking, tell us what you thought by leaving a comment below and a star rating above.