Perfect Bacon Bowl is a way to create – you guessed it – bowls made entirely of bacon. How does the product work? Here's our review plus key product information.
Sponsored Links:

Perfect Bacon Bowl (formerly known as Perfect Bacon Pan) is a simple design, which certainly works – but could be easily achieved with substitutes such as muffin tins (not for the microwave, however), potpie pans, or custard cups. Aside from this, Perfect Bacon Bowl does work, as its design is simply a bowl-shaped mold for bacon. The product has increased its advertising in late 2013.
Have you tried it? What did you think?
Official Website
There are three websites which have been advertised for this product:
buyperfectbacon.com – Registered December 5, 2012

buybaconbasket.com – Registered August 7, 2013. (Fowards to buyperfectbacon.com)

buybaconbowl.com – Registered May 19, 2013. (Fowards to buyperfectbacon.com)
Contact
Phone: 855-663-5646
Hours: 8am to 10pm Eastern Standard Time Monday – Friday
Claims/Features
Make perfect & edible bacon bowls that can be used for a variety of savory dishes
Use for eggs, BLT's, burgers, mac and cheese, pizza bites, stews, soups & more
Use in the microwave, toaster oven, and electric oven
Grease collects in the Bacon Bowl channel keeping it out of your diet
Dishwasher safe and easy to clean
30-Day money back guarantee
Bonus recipe guide.
Cost
$10.00 plus $7.95 P&H = $17.95
Get two more Perfect Bacon Bowls for $4.95 P&H for a grand total of $22.90
Screenshot
This is a screen capture of the official website, taken in December 2013: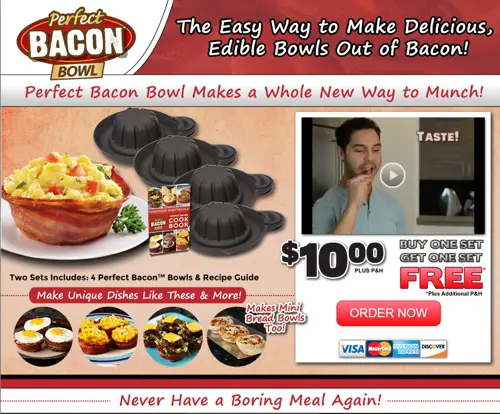 Television Commercial

This is a television for Perfect Bacon Bowl

Perfect Bacon Bowl Reviews
Have you tried Perfect Bacon Bowls? Please give us your review in the comments below and give it a star rating above.
Sponsored Links: