Perfect Pie Cutter is advertised as a way to create perfect, even pie slices every time. Here is our Perfect Pie Cutter review plus additional information.
Sponsored Links
Perfect Pie cutter is advertised as a solution for issues caused by manually cutting and removing pie slices. It claims to solve the problem of creating uneven slices. With the Perfect Pie Cutter, you push down on the product, allowing the blades to create six uniform slices. It is said that this method will eliminate crumbling slices and uneven cuts.
Another issue that the Perfect Pie Cutter address is that of filled pie slices which ooze into open areas of the pie tin while resting in the fridge. The Perfect Pie Cutter is designed to be left in place which keeps the slices from running. This is also said to "seal" the edges in order to retain freshness.
Finally, Perfect Pie Cutter is also said to eliminate the issue of plastic wrap which removes the pie topping when removed. By placing wrap over the Perfect Pie Cutter, this issue is also said to be eliminated.
A spatula is included, which is sized to match the slices created by the Perfect Pie Cutter.
Sponsored Links
If you want the 8-slice Perfect Pie Cutter, you'll have to take advantage of their "get one free" offer for additional shipping.
A couple of issues with the product do exist. The Perfect Pie Cutter is not adjustable, meaning it only fits standard-sized pie tins. It also tends to miss cutting a small section of the crust as it goes up the side of the pan. That said, the product does seem to work generally as advertised.
We should also point out that similar pie cutters can be found on Amazon for about $10.
Have you used Perfect Pie Cutter? What did you think of it?
Official Website
perfectpiecutter.com
Registered August 14, 2013
Contact
Claims/Features
Dishwasher safe
Perfect slices every time
Seals edges so your pie remains fresh until served
Pie with Cutter inside, stores easily
Used by hundreds of restaurants
30-Day Money Back Guarantee (less s/p&h)
Not available in stores
Cost
$10 + $6.95 P/H =16.95
Add the 8 Slice Perfect Pie Cutter & matching spatula for another $6.95 P/H.
Grand total = $23.90
Screenshot
Below is a screenshot of the Perfect Pie website, captured in December 2013: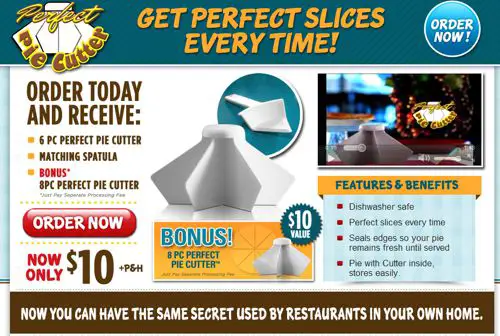 Perfect Pie Cutter Reviews
Have you tried Perfect Pie Cutter? Please give us your review in the comments below and give it a star rating above.