Pet Rider is advertised as a way to protect your car seats when traveling with pets. This is our Pet Rider review along with other key information.
Sponsored Links
While the problem of traveling with pets appears to be addressed with Pet Rider, the product has one major flaw, which prevents an otherwise good design from being useful. This concern is of the smell of the product. Pet Rider gives off a strong chemical odor reminiscent of gasoline, which some have said makes it an unbearable addition to their car. Washing this odor out has proven difficult, and some users have even claimed the toxic-smelling fumes made their dogs sick.
Another issue we have found is that, although the box states that it is machine washable, the product does not seem to fare well in a washing machine. After one wash, the material began to separate and shred.
If you can find a Pet Rider that doesn't have a nauseating chemical smell, and you don't wash it, it might actually prove useful.
Sponsored Links
Have you used Pet Rider? Give it a rating and a comment here.
Official Website
petrider.com
Registered November 23, 2009
As of February 2014, the website now forwards to sop.telebrands.com
Contact
Phone: 1-855-668-1655
Hours: M-F 8:00 AM to 10:00 PM ET & Sat – Sun 9:00 AM to 6:00 PM ET
Claims/Features
Waterproof
Easy to install
Seatbelt access
Great for indoors
Wipes clean in seconds
Use it to keep your pet in the backseat
Available in stores. We recently spotted this at Big Lots.
Cost
$10.00 plus $6.99 shipping = $16.99
Get a second one free for another $6.99
Grand total =

$23.98

 
Screenshot
This is a screenshot of the Pet Rider website, captured in November 2013. The website now forwards to Telebrands.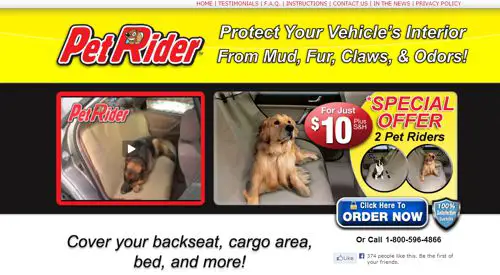 Television Commercial
This is a recent television commercial for Pet Rider:

Pet Rider Reviews
Have you tried Pet Rider? Please give us your review in the comments below and give it a star rating above.