PetiCare is a nail trimmer for cats and dogs that includes several useful features. Does it really work? Here is my PetiCare review.
Sponsored Links
About PetiCare
PetiCare is a pet nail trimmer that features a LED light, magnified mirror, and nail trapper. The official product website is buypeticare.com, which was registered in April 2017. The screenshot below shows how the product website looked in October 2017.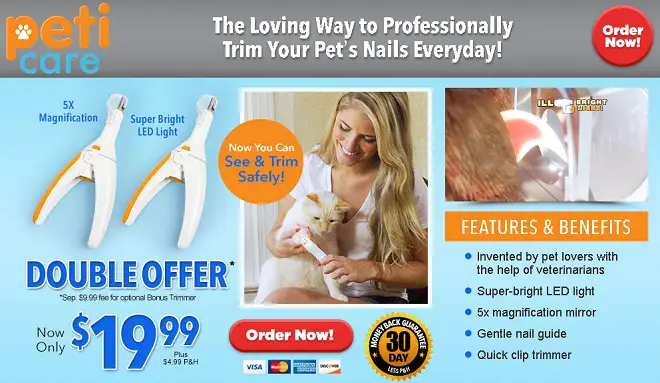 Claims & Features
Created by pet owners with the assistance of veterinarians
Built-in LED lights up nails
Magnifying mirror (5x strength)
Nail guide gently gets the nail in place
Quick clip handle
Cost
PetiCare costs $19.99 + $4.99 P&H for a total of $24.98. There is an optional double offer for a separate fee of $9.99 which would raise the total to $34.97. At the time of this writing, PetiCare is not available in stores.
Sponsored Links
PetiCare Review
The first time I recall seeing a pet nail trimming device advertised was when Pedi Paws was marketed years ago. That was a pet nail grinder that actually worked quite well, although the current version sold on Amazon seems to pale in comparison to the original. Now we have PetiCare, a pet nail trimmer that adds a few new features onto the traditional design.
Regular pet nail trimmers work similarly to scissors with two blades that are squeezed together by a handle. PetiCare does sport this same general design, with a few additions. First, the blade is perpendicular to the handle, rather than parallel like typical trimmers. There is also an included LED light that helps illuminate the blood line, making safe trimming easier. A plastic housing on the end also collects nails as they are trimmed, making them easy to discard. It also doubles a magnifier in order to help you see the nails more clearly as you trim them.
I like the design of PetiCare, as it adds several worthy features to traditional pet clippers. I have four pets, and not all of them are fond of having their nails trimmed. While PetiCare may help avoid cutting too close to the quick, it won't necessarily be helpful in calming the nerves of pets who hate the process. Pedi Paws was touted as a gentle process that could help in cases of scared pets, but I'm not sure PetiCare can achieve that because it's still a clipping sensation.
If your pet doesn't mind having its nails trimmed, PetiCare may be an excellent upgrade to your existing clippers. If you are pets are already afraid of the process, I'm not sure this can offer much to help.
Keep in mind that PetiCare is a new item and may still be in the test marketing phase. If that is the case, you'll want to exercise patience in the shipping process. It has been my experience that test marketed items take many weeks (into months) to ship.
Alternatives
This $7 stainless still trimmer is a basic model,  but listed as a best seller with nearly 5,000 reviews as of this writing. This $19 USB pet nail grinder is a sort of next-gen Pedi Paws (they are unrelated) and a #1 Best Seller with very high consumer ratings.
Your PetiCare Reviews
Have you used PetiCare or something like it? Leave a comment below and a star rating above to let us know your thoughts.