Philips Norelco OneBlade Review: First-Hand Review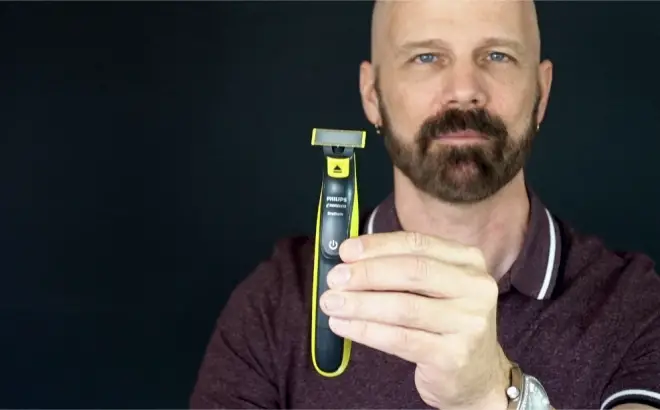 Philips Norelco OneBlade is an electric shaver that works like a handheld razor. Does it really work? Here is my Philips Norelco OneBlade review.
Sponsored Links
Where to Purchase
You can pick up the Philips Norelco OneBlade on Amazon for about $35. It can also be purchased in stores such as Walmart, CVS, Best Buy, or Kohls. It comes with three trimming combs and a charger. A set of three replacement blades costs around $28, while a single replacement blade costs around $15.
Be sure to read my 2020 update and watch the full video review below.
About Philips Norelco OneBlade
Philips Norelco OneBlade is a hybrid razor that can shave, trim, and edge, and can be used similarly to a cartridge razor. The official product website is philips.com/oneblade, which was registered in April 1987.
Claims & Features
Shaves, trims, and edges
Dual sided blade
Replaceable blades can last up to 4 months
Nonslip grip handle
Comes with three clip-on trimming combs (1 mm, 3 mm, and 5 mm)
Lasts up to 45 minutes before requiring recharge (full charge takes about 8 hours)
Philips Norelco OneBlade Review
Not long after my review of the As Seen on TV Microtouch Solo, I had numerous requests to review the similar Philips Norelco OneBlade, to which it bears a striking resemblance.
OneBlade is advertised as a hybrid razor that uses a rectangular blade, similar to that of a cartridge razor, but it cuts the hair more like an electric razor. You can use OneBlade wet or dry, and the instructions note that moving it against the grain will yield the best results. To use OneBlade, you can move it in either direction, keeping it flat against the skin as you go. If you shave dry, you'll be left stubble like that of a 5 o'clock shadow. Using it with shaving cream will yield a closer shave.
Upon my first use, I used it (dry) on my full beard, and it easily cut through the stubble with only a couple of passes.
When I tested it against the MicroTouch Solo (which can only be used dry), I found that they performed about the same with dry shaving. That may seem to give the edge to the Solo, which is $10 cheaper. However, once my initial dry shave comparison was complete, I applied shaving cream and re-shaved with the OneBlade and was able to achieve a much closer shave, almost comparable to that of a cartridge razor. The makers highlight the fact that you get close, but not too close. Thus you can get "precise stubble" or even a pretty close shave, but it isn't so close that it irritates the skin. Be sure to watch my full comparison of the OneBlade with the MicroTouch Solo below to get a feel for how this razor works in dry and wet conditions.
Sponsored Links
I tried OneBlade with various body hair and it worked pretty well there, too, although my chest was a little red after using it in that location. There are three trimming combs included: 1mm, 3mm, and 5mm. I regularly use the 3mm attachment to keep my facial hair groomed to the length I like.
Although the blade replacements are expensive, they should last several months (they say four months, but most users have said they've lasted much longer). I'm still using my first blade regularly and I'll update this space when it needs to be replaced. (See 2020 Update below)
OneBlade is also pretty good at trimming those pesky ear or neck hairs. I have used it on my head, but I don't think it's really a good match for that type of surface. I did not try it in the pubic region as the instructions state not to use it there. There is really no cleaning involved as you can simply rinse it under the sink when you're done, or even use it in the shower.
The NiMh battery takes about 8 hours to charge and is said to last 45 minutes. I've used it for multiple shaves before it needed to be recharged.
If you are looking for the closest shave available, this is not the product for you. It is designed to leave stubble behind, although you can get pretty close with shaving cream. If, however, you are looking for a versatile trimmer and like a little stubble, this should be on your short list of options.
As of this writing, the OneBlade has a solid 4.4 star rating among thousands of consumer reviews on Amazon. You may want to peruse some of the comments there to get a feel for what others are saying. Perhaps even compare that to the comments for the MicroTouch Solo while you're there.
There is also a OneBlade Pro, which I have not reviewed, although it does look impressive.
2020 Update
I first reviewed the OneBlade back in late 2017 and it is now July 2020 and I still use it regularly. I don't use it as my primary razor for my head (that is still the Fusion5), but I still use it to trim the edges of my beard, neck and ear hairs, and occasionally shavin down to stubble.
The blade finally broke back in October 2019, so it lasted a full two years, which is far more than the six months they claim. Others have said they've gotten even longer use from their first blade. The battery life still seems to be about as good as it was when I first bought it, and I only charge it every few weeks.
Overall, I am quite happy to have the OneBlade in my shaving repertoire, and I recommend it regularly. I should also note that, because of the OneBlade, I do not use the Microtouch Solo, which was good, but not as good. It also seemed to have a weaker battery, and cannot be used with water.
Note that my rating below has been updated to reflect my impressions after three years.
Video Review
Below you can see my comparison of the OneBlade vs the As Seen on TV competitor, MicroTouch Solo.
Your Philips Norelco OneBlade Reviews
Have you used Philips Norelco OneBlade or something like it? Tell me what you think in the comments below.
Updated July 2020.