Picasso Slicer is an automatic kitchen appliance that quickly chops, slices, and dices food. Does it work as advertised? Here is our Picasso Slicer review.
Sponsored Links
About Picasso Slicer
Picasso Slicer is a versatile food slicer that rapidly chops, dices, slices, minces, grates, and juliennes at the touch of a button. The official website is picassoslicer.com, with a registration date of June 2017. The screen capture below was taken of the product website in July 2017.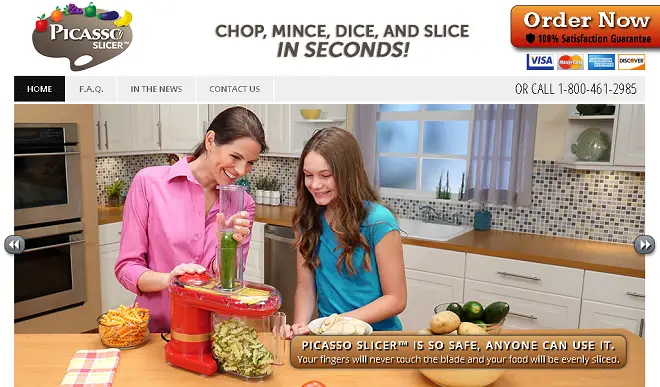 Claims & Features
Multi-purpose (chops, slices, dices, minces, grates, and juliennes)
Compact, fast, and user-friendly
Safe to use
Cuts food evenly
Easy to clean and dishwasher safe
Cost
Picasso Slicer costs $59.99 + $12.99 shipping for a total of $72.98. It comes with a free recipe guide, seven precision cutting blades, a 2 quart container, and a storage lid.
Picasso Slicer Review
Picasso Slicer is an electric food slicer that uses removable blades to achieve a variety of cuts. To use Picasso Slicer, you simply insert your desired food into the chute, turn it on, and press the food across the moving blade. It's not unlike a food processor with replaceable blades, although this unit moves the blades back and forth like a meat slicer, rather than spinning like a traditional food processor. Sliced food falls into the container below, which should have ample storage for most consumer needs.
Sponsored Links
You have numerous blades to choose from, including a Julienne blade, grater, slicer, crinkle cut, and dicer.  The base of the unit includes a large red button which must be depressed while slicing. The mechanism itself works just like a manual slicer as the blades move back and forth across the food, but with the machine doing most of the work. You still have to press the food through the chute, which can require a moderate amount of pressure depending on the food and the blade being used.
I wouldn't expect this to be of the highest quality, but it should work generally as advertised. Just keep in mind that this is probably slower than the average food processor, which means you need to spend more time pressing food into the chute than you might expect.
Cleaning Picasso Slicer in most cases is as easy as rinsing it off in the sink, but what you are chopping will dictate how much effort it takes to clean. I've found, for example, that cheese leaves much more residue behind than tomatoes.
I own several Red Copper items, and they are all made of acceptable construction, although I wouldn't say they are of high quality. It would be hard for me to recommend this over a tried and true food processor in the same price range, however, especially since this item is not yet available locally.
Picasso Slicer is a very new item, as evidenced by its June 2017 registration date, which means it is mostly likely a test marketed item. It has been my experience that test marketed items are slow to ship, and sometimes never ship at all if the product doesn't garner much interest. When that happens, all existing orders are canceled or refunded. I'll continue to monitor this product and will update this space if anything changes.
Alternatives
If you want a manual slicer, something like this $22 model would certainly fit the bill. Of course you could choose among numerous highly-rated food processors like these. The Veggie Bullet is another item that has been heavily advertised, and one I have posted two reviews for on YouTube. You can check out one of those reviews below.
Your Picasso Slicer Reviews
What are your thoughts about Picasso Slicer? Drop a comment below and a star rating above to let us know what you think about it.