Pinpoint Measure is a measuring tool that uses a laser to instantly calculate distance, area, and volume. Does it work as advertised? Here is our Pinpoint Measure review.
Sponsored Links
About Pinpoint Measure
Pinpoint Measure is a handheld laser measure that computes length or capacity by pressing a button. The official website is buypinpoint.com, with a registration date of April 2017. The screen capture below was taken of the product website in May 2017.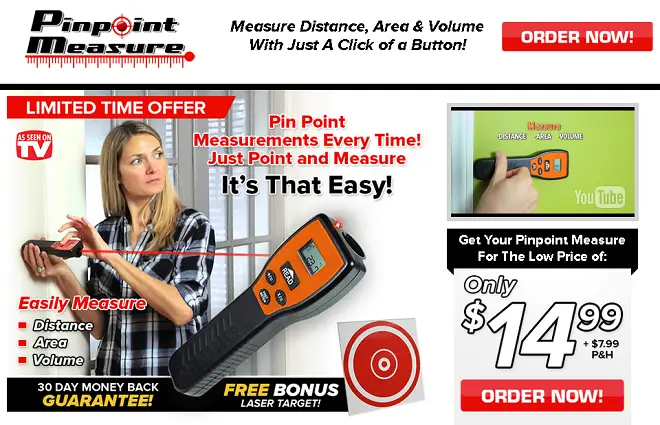 Claims & Features
Automatically calculates distance, area, & volume with a touch of a button
Range of 40 ft
Simple to use from any angle
Easy & quick
30 day money back guarantee
Cost
Pinpoint Measure costs $14.99 + $7.99 P&H for a total of $22.98. The unit comes with a bonus laser target.
Pinpoint Measure Review
If you've struggled with measuring tapes in the past, the makers of Pinpoint Measure may have just the item for you. This laser measuring device allows you to easily measure distance, area, and volume by simply pointing a laser beam and pressing a button.
Pinpoint Measure is a lightweight, handheld device in which you can easily measure distance, area, and volume. This is achieved by placing the back of the device against a surface, aiming the laser to wherever you want to measure, and pressing the "Read" button.
Sponsored Links
Results are given in real time, so you can adjust on the fly, or even move while depressing the button to see the measurements change.
There are two additional buttons that allow you to measure area and volume. These show "+/=" and "x/=" which mean you can add measurements together or multiply them in order to read area or volume easily.
Pinpoint Measure can measure up to a distance of 40 feet, which is modest in comparison to competing products that can measure up to about 200 feet. For an inexpensive laser measuring device, however, 40 feet should be sufficient for most uses. If, however, you plan to use it for larger jobs, such as measuring a yard or between two items that are far apart, the 40-foot range could be a limiting factor.
It has been my experience that some laser measuring devices may be accurate to about 1/16 of an inch, but if you need something more accurate than that, you may want to explore other options.
One problem for some people using laser measuring devices is that of measuring outdoors in bright sunlight. I've found this setting can make it difficult to see the laser dot that you are attempting to aim.
Pinpoint Measure is a new item, based on its April 2017 website registration date, which tells me this could be a test marketed item. If that is the case, Pinpoint Measure could change names, price, or design before making it into full production – if at all. I'll update this space if anything changes.
Alternatives
I think most consumers realize that laser measuring devices are not a new concept. The price of what's available can range from $20 to $99. Many of the name brand best sellers, such as this $100 Dewalt model, offer a much higher distance than Pinpoint Measure. A highly rated, less expensive option is this $37 model by Tacklife, which offers a 196 foot distance.
Television Commercial
Your Pinpoint Measure Reviews
What are your thoughts about Pinpoint Measure? Drop a comment below and a star rating above to let us know what you think about it.