Play Face Pals are plush animals for kids which have bendable faces that allow them to be shaped into a variety of expressions. Read our Play Face Pals review.
Sponsored Links
About Play Face Pals
Play Face Pals have bendable mouths and eyebrows, which kids can shape into different – and funny – facial expressions. The official product website is playfacepals.com, which was registered in January 2016. You can see a screenshot below of the official website taken in September 2016.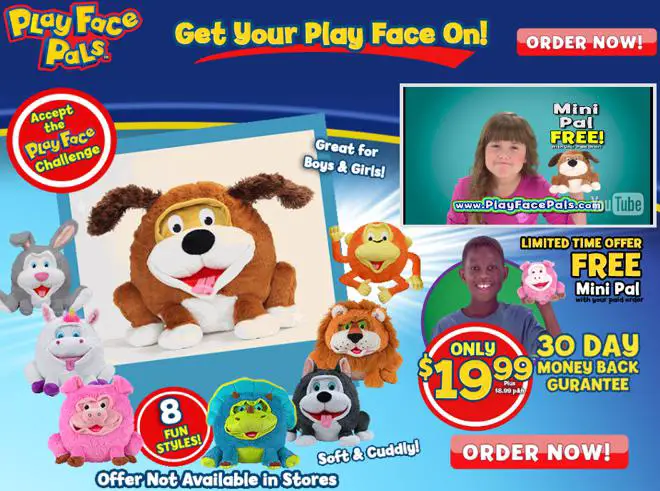 Claims & Features
8 different designs: Unicorn, Pig, Dino, Dog, Husky, Lion, Bunny, and Monkey
Bendable mouths and eyebrows
Cost
Each Play Face Pal costs $19.99 + $8.99 P&H, for a total of $28.98. A free mini pal is also included with every order for no additional charge.
This item is not available in stores, and there is a 30 day money back guarantee.
Play Face Pals Review
Play Face Pals are plush animal characters with bendable mouths and eyebrows, which allow kids to give their toys a variety of facial expressions.
Sponsored Links
This is a new product, with a 2016 trademark date, and website which only went live in September of this year.
Play Face Pals are sold by Jay at Play, which has produced other popular plush toys such as Tummy Stuffers, Hide Away Pets, and Seat Pets. The advertising for Play Face Pals has a similar feel as those products. As with other Jay at Play products, there are regular and mini versions of each character.
If your child has enjoyed plush character toys in the past – especially other offerings by Jay at Play – then Play Face Pals should be a safe choice. Their previous character toys have been generally well received and lauded for their soft yet durable construction.
The face shaping feature may be something of a novelty that wears off in short order, but the toy itself should be rugged enough to last for years.
Keep in mind that new As Seen on TV products have a tendency to ship more slowly than their more established counterparts. That doesn't mean that Play Face Pals will definitely have problematic shipping, but it is a possibility based on how new of an item it is.
Perhaps the biggest complaint we have about Play Face Pals is that of shipping (or "P&H") which is nearly half as much as the price of the item itself. This is the norm for As Seen on TV products, which is why many consumers choose to wait until they arrive on shelves to make their purchase. Not all As Seen on TV products make it to store shelves, however, so if this is a must-have item for you, waiting may not play in your favor.
Based on the success of previous Jay at Play character pets, we think Play Face Pals will be well-received by kids who found the television commercial to be tantalizing.
Alternatives
We haven't encountered a product quite like this, which is to the credit of Jay at Play. You may want to peruse other Jay at Play offerings to read consumer reviews and see what else the company has to offer.
Television Commercial
Your Play Face Pals Reviews
Have you used Play Face Pals? Let us know what you think by leaving a comment below and a star rating above.