Playbrites are light emitting dolls for children that project a colorful light show. Does it work? Read our Playbrites review.
Sponsored Links
About Playbrites
Playbrites vaguely resemble a luminous Mr. Potato Head. The toy also casts a multicolored light show when the top is removed. The product website is playbrites.com, which was first registered in September 2016. The screen shot below shows how the product website looked in February 2017.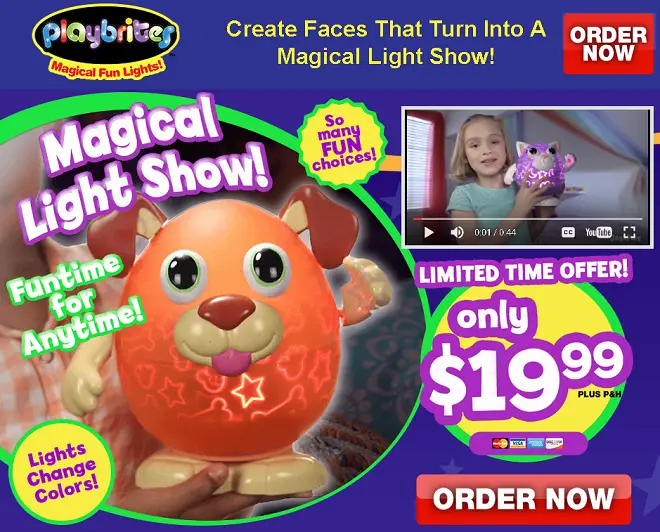 Claims & Features
Projects a light show on the ceiling
Colors shift between red, blue, green, orange, pink, and white
LED lights are long-lasting
Available in 6 different models (Bunny, Kitty, Dog, Dino, Shark, or Unicorn)
Convenient carrying handle
Eases fear of the dark and stimulates relaxation
Shuts off automatically
Cost
Each Playbrite unit costs $19.99 + $8.99 P&H for a total of $28.98. As of this writing, Playbrites is not available in stores.
Sponsored Links
Playbrites Review
Playbrites could be described as a sort of light-up Mr. Potato Head with a built-in ceiling projector. It's an illuminated egg-shaped toy on which kids can place or remove eyes, ears, mouth, and hands. Each Playbrite can be displayed as a character nightlight, or the top half can be removed to reveal a projector that casts a light show onto the ceiling. This light show cycles through multiple colors and includes shapes such as stars, hearts, moons, and fish.
To activate the light, you simply press lightly on the top of the toy. It can be used day or night, and includes an auto shut-off feature. If you don't want to display the face pieces, you can store them inside the body.
As with several other Jay at Play toys, Playbrites has the function of two toys in one. When fully assembled, it is an illuminated character. When disassembled, it is a ceiling projector.
Light up toys and ceiling projectors are mainstays in every child's bedroom, and Playbrites can function as either of these coveted items.
The only potential "cons" are that the projector lights are not animated (other than changing colors), and the only way to mix and match faces is to purchase additional Playbrites of a different character. Individual Playbrites don't include multiple face options. I don't think either of these "cons" will dissuade many consumers from trying Playbrites, however.
Playbrites are marketed by Jay at Play, a company which specializes in children's character toys. This company has a way of producing enticing products and compelling advertising campaigns. You may recall other Jay at Play offerings such as FlipAZoos, Sneak A Peak Puppies, Play Face Pals, Flip Zee Girls, and Mimic Mees, to name a few. The company's BBB rating has fluctuated widely over the past year, which as of this February 2017 writing sits at a C+.
From what I've observed about Jay at Play over the years, is that most consumer complaints are regarding slow shipping of new and test marketed products, and less commonly about the products themselves. Because Playbrites are relatively new, you may want to exercise patience during the shipping process.
Overall, I think Jay at Play has produced another winner in Playbrites. The cost isn't exorbitant, and there is enough functional variety to provide significant replay value.
Alternatives
Although Playbrites is a pretty unique toy, there are many ceiling projectors for kids, usually in the $15-$20 price range.
Your Playbrites Reviews
What do you think of Playbrites? Tell us what you think by leaving a comment below and a star rating above.