Pocket Mouse is a wireless optical mouse that is shaped like an ergonomic pen. Does it work as advertised? Here is our Pocket Mouse review.
Sponsored Links
About Pocket Mouse
Pocket Mouse is a wireless mouse that you hold like a pen. It has a range of 30 feet and doubles as a stylus. The official website is buypocketmouse.com, with a registration date of April 2017. The screen capture below was taken of the product website in May 2017.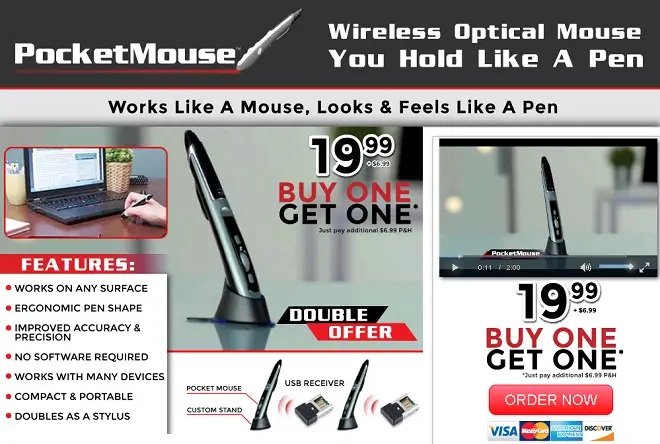 Claims & Features
Precise and accurate on any surface
Designed like an ergonomic pen
30 foot range
Compatible with many devices via USB
Compact
No software to install
Can also be used as a stylus
Excellent for people with wrist pain and arthritis
Cost
Pocket Mouse costs $19.99 + $6.99 for the mandatory double offer + $6.99 P&H for a total of $33.97. Each unit comes with a custom stand. Pocket Mouse can be found in stores, typically in the As Seen on TV section, for about $20.
Pocket Mouse Review
Most people have seen or used a stylus, but did you know that there are products that look like a stylus and function as a mouse? Pocket Mouse is a computer mouse in the shape of a pen. This ergonomic design is said to allow you to more comfortably operate your computer.
To use Pocket Mouse, you simply plug in the USB transmitter into your computer. There is no software to install. Once plugged in, you simply use Pocket Mouse in the same manner you would use an ordinary mouse. It can work up to 30 feet away, and on most surfaces.
There are left/right buttons that correspond with an ordinary mouse, along with a scroll wheel. The "left" mouse button is on the top of the device, while the "right" mouse button is – counterintuitively – on the left side. Pocket Mouse can be flipped over and doubles as a stylus.
I tried Pocket Mouse for gaming, productivity, and art, and enlisted my kids to try it out as well. All of us were dissatisfied with the placement of the right button, which resides right under your thumb. Not only is it hard to get used to, but sometimes when moving the unit, I found myself accidentally right-clicking with my thumb.
For artwork, I didn't find it to be any better than a regular mouse, although the stylus tip functions fine in that capacity. Keep in mind that you can't use it with an iPad, as those tablets don't support the use of a mouse at all. Thus, if you wanted to use this with a tablet, you'll either have to use the stylus end, or stick with a non-Apple device.
Gaming is another area I gave this a thorough evaluation. My son pointed out that Minecraft uses a little-utilized feature of standard mice, that of pressing the scroll wheel. Although most applications don't utilize this feature, it is worth pointing out that Pocket Mouse does not offer that function at all. That, combined with a somewhat awkward right-click, makes the Pocket Mouse less than desirable for gaming.
Sponsored Links
This is one of those products where satisfaction will be highly subjective. There are those consumers, like myself, who have used a mouse so long that it will be difficult to switch to any other pointing device.
Over the years I've tried to use alternatives to computer mice, but felt that trackpads and touchpads were difficult and frustrating to use. I have also tried pen mice, and did not like the way they felt. I realize that using a pen mouse is supposed to be less strain on the wrist than a mouse, but I feel like resting my hand on a mouse is more comfortable than holding a pen mouse with the side of my hand resting on the desk. Again, this objection is purely subjective. I know people who prefer trackpads, trackballs, and pen mice over a standard mouse.
If you've never used a pen mouse, there will probably be a bit of a learning curve as you adjust to the placement of the buttons, and holding your pointer in a different manner than before. A pen mouse is ideal for travel, as it fits nicely in a briefcase or backpack (just don't forget the USB transmitter!).
At $20, Pocket Mouse is on the high end of the price scale when compared to competing products, so you may want to shop around before making your final decision. Also keep in mind that this "As Seen on TV" offer includes a mandatory double offer, meaning you'll fork over about $14 in nonrefundable shipping, even if you decide to return your two units. You'd be better served picking this up locally to avoid shipping costs and delays, and to facilitate the return process if you decide not to keep it.
Below is my full video review of Pocket Mouse.
Alternatives
There are numerous pen mice to be found online, with a price range of about $12 – $20. This $20 Huion model is one of the more popular, with a 4.2 star rating among about 200 reviews. The design of Pocket Mouse is very similar to this $13 Docooler Optical Pen Mouse.
Your Pocket Mouse Reviews
What are your thoughts about Pocket Mouse? Drop a comment below and a star rating above to let us know what you think about it.
Updated March 2018.