Pop Bag is a reusable shopping bag that instantly opens, folds flat, and can hold up to 40 pounds. Does it actually work? Read our Pop Bag review.
Sponsored Links
About Pop Bag
Pop Bag is advertised as a reusable shopping bag that "pops" open in an instant. The official product website is , which was registered in . The screen shot below was taken of the product website in January 2017.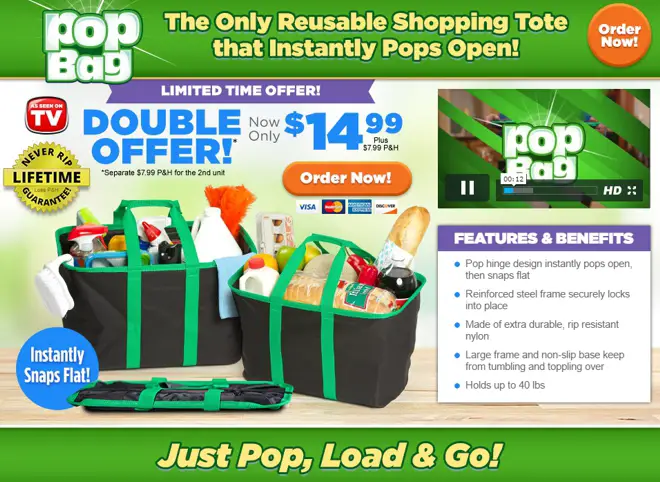 Claims & Features
Hinged design allows bag to quickly pop open
Folds flat
Steel frame locks into place
Rip-resistant nylon
Holds up to 40 pounds
Cost
Pop Bag costs $14.99 + $7.99 P&H. A second bag is included for another $7.99 P&H, and you can't opt out of this double offer. That brings your total to $30.97 for two units.
As of this writing, Pop Bag isn't sold in stores.
Sponsored Links
Pop Bag Review
Pop Bag is advertised as a reusable shopping bag that "pops" open instantly, and then snaps flat for easy storage. It can hold up to 40 pounds, and allows you to carry more groceries at once than with regular storage bags.
To its credit, Pop Bag does offer an attractive design with a steel frame that locks into place. That gives it a leg-up over inexpensive reusable store bags that do not offer this feature, and that could fall over easily when full of groceries. Pop Bag also stands on its own in your cart, allowing you to place groceries in it easily. They are larger than standard issue store bags, and can reduce the number of trips you make to the car to unload your groceries.
Despite some advantages over other reusable bags, it could still be a hard sell when generic reusable bags can be purchased for as low as $1.50 at some locations – while you're expected to shell out over $30 for two of these. Additionally, the larger capacity may mean a heavier load, which not everyone would necessarily want. "Why would you want to carry 40 pounds of groceries at once?" a consumer asked about a similar item.
Pop Bag is a very new item, and I don't believe any consumers have actually had a chance to evaluate it yet. It may only be in the test marketing phase, which means pricing, design, and advertising could all change. That also means those who do order may quickly be hit with "back order" status due to limited production.
I'll continue to monitor Pop Bag for any changes, and I'll update this space as information becomes available.
Alternatives
You may recall commercials about two years ago for a similar product called Grab Bag. The advertising was similar, as is the 40 pound weight limit. The primary difference is that Pop Bag highlights its ability to quickly open. You can now find a two pack of Grab Bags for about $7.
There are also numerous reusable shopping bags ranging in design, price, and function. It may pay to shop around.
Television Commercial
Your Pop Bag Reviews
Have you used Pop Bag? Let us know what you think by leaving a comment below and a star rating above.