Porchbrella is a screen which turns your patio umbrella into a bug-free zone. Read our Porchbrella review.
Sponsored Links
About Porchbrella
Porchbrella attaches to a patio umbrella to keep bugs out. The product website is porchbrella.com, which was registered in January 2016. The screen shot below shows the official website as it appeared in July 2016.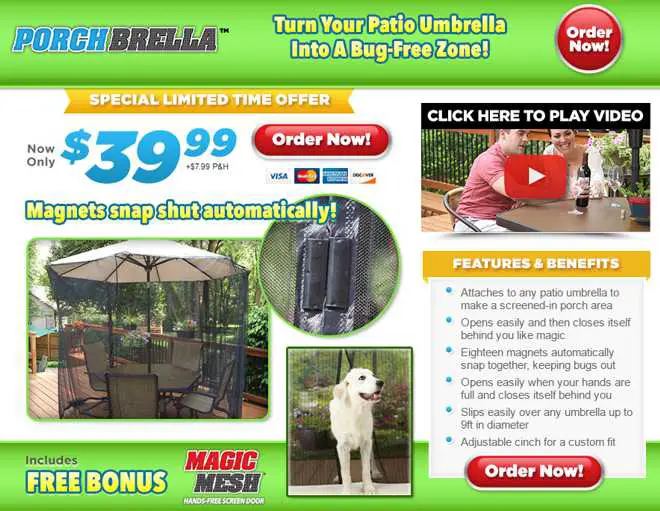 Claims & Features
Attaches to any patio umbrella
Opens and closes easily by use of magnets
Magnets snap together automatically
Works on umbrellas up to 9 feet in diameter
Adjusts for custom fit
Cost
You can get Porchbrella for $39.99 + $7.99 P&H for a total cost of $47.98. A deluxe model – which uses stronger material and magnets – costs $10 more. A Magic Mesh is included with every order at no extra charge.
As of this writing, Porchbrella is not available in stores.
Sponsored Links
Porchbrella Review
If you've seen commercials over the past several years for Magic Mesh, you'll see a close resemblance of that product to Porchbrella. While Magic Mesh is a door screen that automatically closes via magnets in order to keep bugs out, the same principle has been applied to this umbrella screen.
Porchbrella attaches to any patio umbrella up to 9 feet in diameter and provides a bug-free zone. There is a cinch which allows you to customize the fit to your needs.
Installing Porchbrella should only take a matter of minutes, and the design is simple yet effective.
Once in place, Porchbrella provides a screened-in area below your patio umbrella that will allow you to enjoy the outdoors without being bothered by flies or other pests.
It does not include a weighted base as some competing models do, but it reaches close enough to the ground that this shouldn't be a problem.
The original Magic Mesh, while generally popular, was met with some complaints that the magnets were not strong enough to close the screen. Read our Magic Mesh review. The Deluxe Magic Mesh, however, found more positive ratings due to its stronger material and magnets.
Porchbrella has the same Regular/Deluxe options regarding magnet and material strength, and you may want to opt for the more durable and stronger Deluxe model. This, however, puts the total price at nearly $60, which is considerable higher than the competition. That cost is lessened somewhat by the inclusion of a Magic Mesh, which usually costs around $15.
Overall, we feel that the majority of customers who purchase Porchbrella will be satisfied with the product. It is easy to install, and does an adequate job of creating a bug-free zone for most patio umbrellas. There are, however, other options.
Alternatives
There are numerous umbrella screens which can be found from about $22 – $40, although the standard design does not use magnets like Porchbrella. A popular model is this 9-foot mesh mosquito net enclosure by LB International, which runs about $38 and has a zippered opening.
Your Porchbrella Reviews
What do you think of Porchbrella? Give us your opinion with a comment below and a star rating above.