Power Up And Go can charge four devices at once, and even jump start a car. But does it work? Read our Power Up And Go review.
Sponsored Links
About Power Up And Go
Power Up And Go (referred to as "Power Up" in the television commercial below) is a portable charger than can be used to power several devices at once, or even jump start a car. The product website is powerupgo.com, which was registered in October 2016. The screen shot below shows how the product website appeared in December 2016.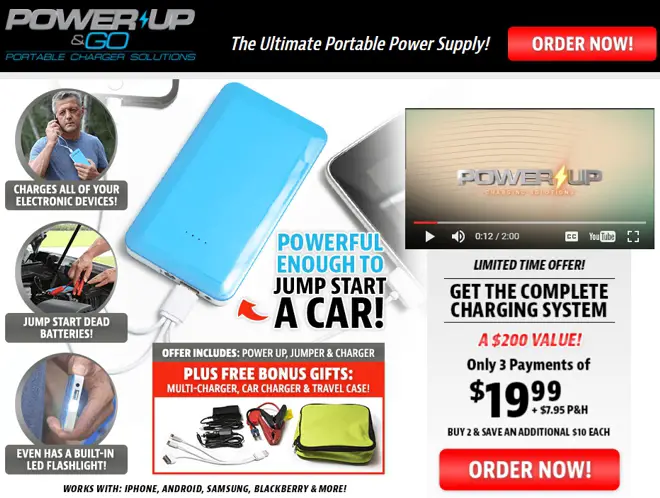 Claims & Features
Charges all your electronic devices
Jump start dead batteries
Built-in LED flashlight
Charge 4 devices at once
7,800 mAh capacity
Compact, easy to store
Includes jumper cable
Cost
As of this writing, there seems to be some discrepancy with the pricing. The website itself states that Power Up and Go costs $59.97 (broken into three payments of $19.99) + $7.95 P&H for a total of $67.92. The order screen, however, shows a cost of $69.95 with no P&H.
Sponsored Links
Power Up And Go Review
Multipurpose chargers such as Power Up and Go have become increasingly popular in recent years. The idea of powering several devices and even jump starting a car with a portable unit is appealing. But does it work as advertised?
Offering an ample 7,800 mAh capacity, Power Up and Go should do a fine job of charging and topping off multiple small devices. The included three-device multi-charger is a nice feature, although it has different connectors, meaning you couldn't, for example, charge three Android devices simultaneously using that cable. Nevertheless, as far as charging small devices goes, we are confident that Power Up & Go will perform as advertised.
Besides powering small devices, the advertising for Power Up & Go claims that you can jump start a dead car battery using this unit. That is where consumers are likely to have varying experiences. The commercial states that it can "push over 200 crank amps," which is on the low end of power needed to jump start a battery. The size of your car battery and the weather will affect how much power is needed to jump start your car. Thus, some users will be able to jump start their cars with Power Up & Go, and some won't. Other devices which have been advertised with similar claims have also been met with mixed reviews regarding their ability to jump start a car.
Overall, we think Power Up & Go will do a great job of keeping your devices powered up. As far as jump starting your car goes, that will probably be hit and miss for most consumers. Also keep in mind that some hybrids require a different technique for jump starting than non-hybrids.
Alternatives
It would appear that Power Up and Go is attempting to compete with other highly-marketed devices of this nature, such as the MiniMax Portable Charger, which can be seen on weekend infomercials and also offers a 7,800 mAh capacity.
The Amazon's Choice in this category is the $17 KMASHI Portable Power Bank, which holds a solid 4.1 star rating among consumers and provides a capacity of 15,000 mAh.
Television Commercial
Your Power Up And Go Reviews
If you've used Power Up And Go, tell us what you thought by leaving a comment below and a star rating above.