PreHeels is a spray that prevents blisters from forming on the feet and heels. Does it work as advertised? Here is our PreHeels review.
Sponsored Links
About PreHeels
PreHeels is an aerosol spray that creates an invisible coating on parts of the feet that restricts the formation of blisters. The official website is preheels.com, with a registration date of October 2013. The screen capture below was taken of the product website in September 2017.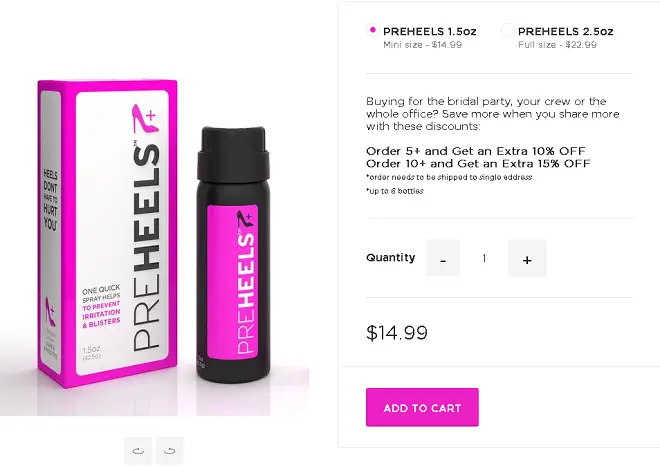 Claims & Features
Stops blisters from occurring
Comfortable and easy to apply
Invisible coating
Coating is flexible and moves with your feet
Lasts for up to 6 hours and won't be worn off by shoes
Quickly dries in about 45 seconds
Hypoallergenic
Easily washes off
Cost
A 1.5 oz mini size bottle of PreHeels costs $14.99. The full size 2.5 oz canister costs $22.99. Shipping is free for orders from the United States. There is an extra 10% discount if 5 or more units are ordered, and an extra 15% discount if 10 or more units are ordered. According to the main page on the website, there is also a 30% discount on orders over $30 when using a special code that also appears on the web page. You can find PreHeels on Amazon for about $14 (mini) to $23 (full).
Sponsored Links
PreHeels Review
When I first saw the name "PreHeels" I thought this may be another gadget that is placed in your shoe like Foot Bumper. Alas, PreHeels is actually a spray that is applied to the feet in order to prevent blisters. When you spray PreHeels onto your foot and let it dry, an invisible barrier is formed to help protect your foot from forming blisters while wearing heels or other problematic shoes.
PreHeels is sprayed onto the foot and allowed to dry, which only takes a few minutes. If you are wearing heels, one layer will probably suffice. With shoes or boots, however, you may want to spray a second or third layer after the first layer dries. The way it feels can best be described as wearing hair spray on your foot. Depending on how much you stand on your feet and how much your feet sweat, you may have to re-apply once or twice throughout the day.
The good news is that PreHeels will work for most people. All shoes and feet are different, so your mileage may vary, but overall consumers seem to be happy with it. How many applications you get in a bottle depends on how much you apply per use. It has been estimated that you should get at least 30 applications with normal use, and each application should last about 5 hours.
One caveat is that there is a rather harsh odor when using PreHeels, which has been compared to that of paint thinner. Although it may not be feasible, it would probably be best to apply this outside or in a garage. At the very least, I'd suggest doing it in a ventilated area. Another unforeseen "con" is that, although PreHeels sprays on clear, it will discolor throughout the day as it comes in contact with socks or soles of your heels. By the end of the day, you could be pulling a black layer off of your foot.
Another area of concern is that of sweaty feet. PreHeels works best in heels because they provide air circulation. If used with a closed boot or shoe, feet can sweat and lead to the barrier rubbing off quickly. If you want to try it with boots or shoes, I'd recommend applying two separate layers.
If you wear heels and are on your feet all day, PreHeels could be a compelling addition in your fight against blisters.
Alternatives
There is no shortage of blister prevention products. You may want to investigate something like BlisterZone, which applies similarly to a roll-on deodorant, costs about $9, and holds high consumer ratings.
Television Commercial
Your PreHeels Reviews
What are your thoughts about PreHeels? Drop a comment below and a star rating above to let us know what you think about it.